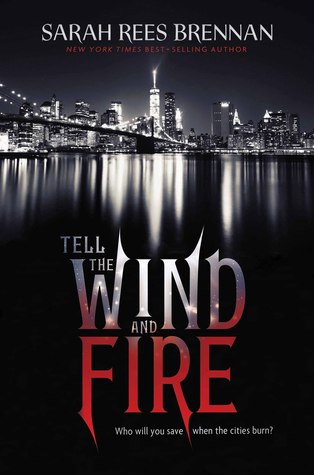 Title: Tell The Wind And Fire
Author: Sarah Rees Brennan
Published: April, 2016 by Clarion Books
Pages: 368
My Rating:






Purchase: The Book Depository
In a city divided between opulent luxury in the Light and fierce privations in the Dark, a determined young woman survives by guarding her secrets.

Lucie Manette was born in the Dark half of the city, but careful manipulations won her a home in the Light, celebrity status, and a rich, loving boyfriend. Now she just wants to keep her head down, but her boyfriend has a dark secret of his own—one involving an apparent stranger who is destitute and despised.

Lucie alone knows of the deadly connection the young men share, and even as the knowledge leads her to make a grave mistake, she can trust no one with the truth.

Blood and secrets alike spill out when revolution erupts. With both halves of the city burning, and mercy nowhere to be found, can Lucie save either boy—or herself?
Final Thoughts:
Nobody seems to like this book. I don't know why. Before I hit Goodreads to check the ratings, I was dashing madly through this one, relishing each lunch break when I could get back into it. Sarah Rees Brennan is one author that just gets characters right. Regardless of whatever the plot may be, she hooks you with the people. I think it's why I loved the Demon's Lexicon series so much even though each book took on a different POV. Here, the main cast is kept quite small—just Lucie, her boyfriend, Ethan, and his doppelganger, Carwyn. Told through a single perspective, Lucie really shines as the lead in this story. While she may have had magic rings on her fingers, she didn't spend the book doing spells. It delves much deeper, getting political with topics such as class, racial discrimination and feminism.

Read Full Review?