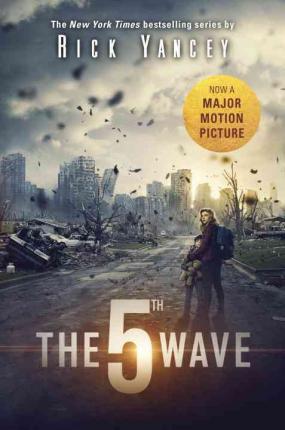 Title: The 5th Wave (The 5th Wave #1)
Author: Rick Yancey
Published: May, 2013 by Penguin
Thanks: Penguin, AU
Pages: 460
My Rating:






Purchase: The Book Depository
The 1st Wave took out half a million people.
The 2nd Wave put that number to shame.
The 3rd Wave lasted a little longer, twelve weeks… four billion dead.
In the 4th Wave, you can't trust that people are still people.
And the 5th Wave? No one knows. But it's coming.

On a lonely stretch of highway, Cassie runs. Runs from the beings that only look human, who have scattered Earth's last survivors.
To stay alone is to stay alive, until she meets Evan Walker. Beguiling and mysterious, Evan may be her only hope.
Now Cassie must choose: between trust and despair, between defiance and surrender, between life and death.
Final Thoughts:
With the movie out already and this book having sat on my shelf unread for the past two (or is it three?) years, I knew it was time to pick this one up. Mainly because I hate trying to read a book after I've seen the movie and know all the twists. That being said, I am very much on the bandwagon now and can't wait to check out the film. It threw us straight into the deep end, alone with our main character, Cassie, as she tried to navigate life in a world not exactly overrun by aliens, but a world where humanity had been all but extinguished.


Read Full Review?