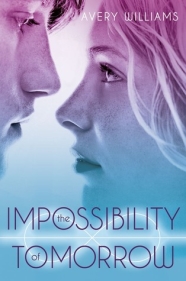 Title: The Impossibility of Tomorrow (Incarnation #2)
Author: Avery Williams
Published: June, 2013 by Simon & Schuster
Pages: 375
My Rating:






Purchase: The Book Depository
Seraphina has been living for centuries, thanks to a special method of alchemy, but only recently has she really felt alive. She's finally broken free from her controlling boyfriend, Cyrus, and after years of swapping bodies to preserve her immortality, is happily settled into a life worth sticking with. Because in this life, she has Noah.

But Noah might not be as trustworthy as he seems. After he delivers an ominous message that could only come from Cyrus, Sera is worried that her new friends and family will find out her secret. And as her suspicions extend beyond Noah, Sera is forced to wonder about her new friends as well: Could her old coven be disguising themselves right under her nose?

Will Sera have to move to another body—and take another life—or can she find a way to keep what she's got, forever?
Final Thoughts:
I went into this one with the notion that I had really enjoyed the quick little read that was The Alchemy of Forever. I'm not sure if something changed since then or if time has altered my memories, but I just couldn't get on board with this one the way I would have liked. It was all teen drama—and high school dance teen drama at that. Sure, the book has its cat and mouse aspect to it, but it was nothing too exciting. It's another one of those 'everything squashed into the last quarter' kind of books.


Read Full Review?