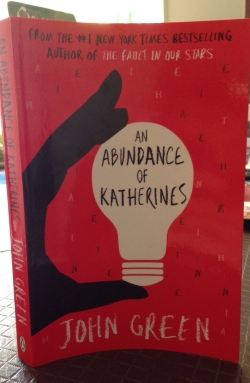 Title: An Abundance of Katherines
Author: John Green
Published: January, 2006 by Penguin
Pages: 227
My Rating:






Purchase: The Book Depository
Katherine V thought boys were gross
Katherine X just wanted to be friends
Katherine XVIII dumped him in an e-mail
K-19 broke his heart
When it comes to relationships, Colin Singleton's type happens to be girls named Katherine. And when it comes to girls named Katherine, Colin is always getting dumped. Nineteen times, to be exact.

On a road trip miles from home, this anagram-happy, washed-up child prodigy has ten thousand dollars in his pocket, a bloodthirsty feral hog on his trail, and an overweight, Judge Judy-loving best friend riding shotgun–but no Katherines. Colin is on a mission to prove The Theorem of Underlying Katherine Predictability, which he hopes will predict the future of any relationship, avenge Dumpees everywhere, and finally win him the girl. Love, friendship, and a dead Austro-Hungarian archduke add up to surprising and heart-changing conclusions in this ingeniously layered comic novel about reinventing oneself.
Final Thoughts:
While it's not my favourite book, it was a breeze to get through. That may sound like I didn't enjoy it, but I did. The characters felt authentic; the situation, despite being a little out there, was quite easy to swallow and get into the groove of this contemporary summer road-trip adventure. My only real wonder was at how Colin—with all of his social inadequacies—managed to land nineteen girlfriends, let alone nineteen with the same name. Putting that aside, though, the banter of Colin and his best friend, Hassan, proved to be just about enough to keep the two hundred or so pages of this short book afloat.


Read Full Review?