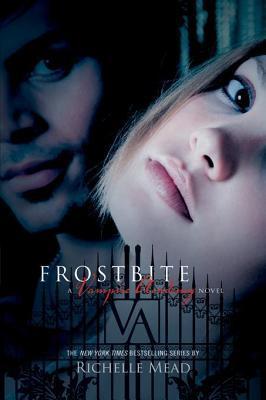 Title: Frostbite (Vampire Academy #2)
Author: Richelle Mead
Published: April, 2008 by Razorbill
Thanks: Penguin, AU
Pages: 327
My Rating:






Purchase: The Book Depository
Lissa Dragomir is a Moroi princess: a mortal vampire with a rare gift for harnessing the earth's magic. She must be protected at all times from Strigoi; the fiercest vampires – the ones who never die. The powerful blend of human and vampire blood that flows through Rose Hathaway, Lissa's best friend, makes her a dhampir. Rose is dedicated to a dangerous life of protecting Lissa from the Strigoi, who are hell-bent on making Lissa one of them.

Rose has serious guy trouble. Her gorgeous tutor, Dimitri, has his eye on someone else, her friend Mason has a huge crush on her, and she keeps getting stuck in her best friend Lissa's head while she's making out with her boyfriend, Christian.

Then a nearby Strigoi attack puts St. Vladimir's on high alert, and the Academy whisks its students away on a mandatory holiday ski trip. But the glittering winter landscape and posh Idaho resort only provide the illusion of safety. When three students run away to strike back against the deadly Strigoi, Rose must join forces with Christian to rescue them. Only this time, Rose – and her heart – are in more danger than she ever could have imagined…
Final Thoughts:
Not a lot was achieved throughout this instalment. It felt more like a side story on the way to something bigger. For the most part, I felt like I was waiting for the plot to happen. There's a fair bit packed into the last quarter of the book, and when it got going, it was good, but in leading up, I thought we spent far too much time with Rose worrying about where her non-relationship with Dimitri was going. Where was all of the Lissa/Rose bond stuff (or more importantly—their friendship) that was introduced in book one?


Read Full Review?