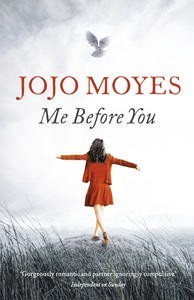 Title: Me Before You (Me Before You #1)
Author: Jojo Moyes
Published: January, 2012 by Penguin
Pages: 480
My Rating:






Purchase: The Book Depository
Lou Clark knows lots of things. She knows how many footsteps there are between the bus stop and home. She knows she likes working in The Buttered Bun tea shop and she knows she might not love her boyfriend Patrick.

What Lou doesn't know is she's about to lose her job or that knowing what's coming is what keeps her sane.

Will Traynor knows his motorcycle accident took away his desire to live. He knows everything feels very small and rather joyless now and he knows exactly how he's going to put a stop to that.

What Will doesn't know is that Lou is about to burst into his world in a riot of colour. And neither of them knows they're going to change the other for all time.
Final Thoughts:
Such an engrossing story—and it all comes down to the characters. I felt so involved with them. Not just main characters, Lou and Will, but their family members as well. With almost five hundred pages spent with them, I well and truly felt as if I'd become a part of their lives. So much seems to take place, the personal growth really surprising me. I loved it for that. There were struggles and struggles, and more struggles, whenever something good happened I think I appreciated it all that bit more never knowing how long it would last.


Read Full Review?