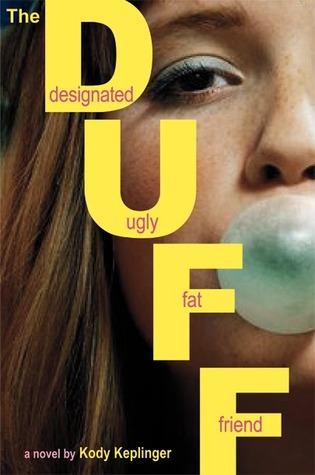 Title: The Duff
Author: Kody Keplinger
Published: September, 2010 by Little Brown
Pages: 280
My Rating:






Purchase: The Book Depository
Seventeen-year-old Bianca Piper is cynical and loyal, and she doesn't think she's the prettiest of her friends by a long shot. She's also way too smart to fall for the charms of man-slut and slimy school hottie Wesley Rush. In fact, Bianca hates him. And when he nicknames her "the Duff," she throws her Coke in his face.

But things aren't so great at home right now, and Bianca is desperate for a distraction. She ends up kissing Wesley. Worse, she likes it. Eager for escape, Bianca throws herself into a closeted enemies-with-benefits relationship with him.

Until it all goes horribly awry. It turns out Wesley isn't such a bad listener, and his life is pretty screwed up, too. Suddenly Bianca realizes with absolute horror that she's falling for the guy she thought she hated more than anyone.
Final Thoughts:
I went into this book definitely not expecting what I found. These teens go at it so much. I'm not a prude, but damn, my eyes were bulging. Still, I got over that. I even started reading it aloud to see if I could shock Joey. With such a short page count, it was easy to fly through, and actually kind of addictive. It was told in such an honest way with Bianca's first person narrative throwing digs at herself and those around her. However, I can't say that I really liked the characters, in fact, Wesley, the lover interest (I'm pretty sure 'lover' is the right word in this instance), was beyond annoying. But then again, this book did come out back during the period when everyone swooned over douchey guys. So, while it wasn't an instant favourite of mine, by rewinding my brain five years, I did enjoy it for what it was.


Read Full Review?