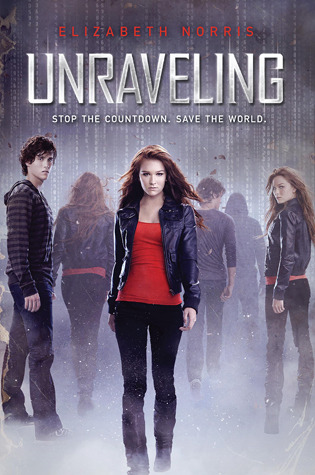 Title: Unraveling (Unraveling #1)
Author: Elizabeth Norris
Published: April, 2012 by Balzer & Bray
Pages: 445
My Rating:






Purchase: The Book Depository
pSixteen-year-old Janelle Tenner is used to having a lot of responsibility. She balances working as a lifeguard in San Diego with an intense academic schedule. Janelle's mother is bipolar, and her dad is a workaholic FBI agent, which means Janelle also has to look out for her younger brother, Jared.

And that was before she died… and is brought back to life by Ben Michaels, a mysterious, alluring loner from her high school. When she discovers a strange clock that seems to be counting down to the earth's destruction, Janelle learns she has twenty-four days to figure out how to stop the clock and save the planet.
Final Thoughts:
Coming off the back of a not-so-riveting read, I jumped right into this and got hooked. Unfortunately, somewhere along the line things soured a bit for me and all of the promise I had seen in the earlier chapters started to fade away. Plus, certain things irritated me like the instaluv, and main character, Janelle's constant use of the saying 'because I'm like that'. Yes, I got that she was like that, but I got to a point where enough was enough and I just couldn't go on agreeing with her blindly simply because she was the main character.


Read Full Review?