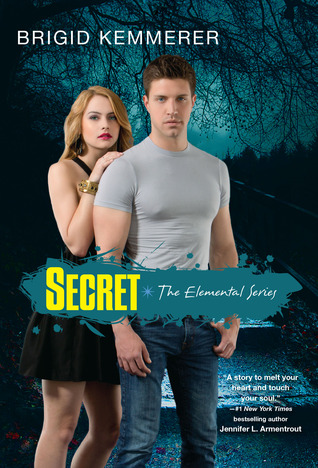 Title: Secret (Elemental #4)
Author: Brigid Kemmerer
Published: January, 2014 by Kensington
Pages: 328
My Rating:






Purchase: The Book Depository
Nick Merrick is stretched to breaking point. He's trying to keep his grades sky-high or he won't get in to college. He's trying to keep his brother's business afloat or the Merricks will be out on the street. He's trying to keep the secret of where he's going in the evenings from his twin brother Gabriel – or he fears he'll lose his family. And he's trying to keep his mind off the hot, self-assured dancer who is his 'girlfriend's' partner.

And then Quinn takes to hanging around his sworn enemy, and an Elemental Guide is counting the hours until he can try again to kill the Merrick brothers. Storms are brewing. On all sides.
Final Thoughts:
This series has me hooked. I'm dreading finishing it off, but I can't wait to start Sacrifice. There's just something about these characters and the way they interact that gets you so invested. I know I bitched about book two not advancing the plot, but I've changed my tune. When I realised the Elemental stuff wasn't making much of an appearance again this time, I had already become engrossed in the characters that I didn't care. So much happens with them in these three hundred or so pages that I can see how a paranormal plot heavy book could have torn away from all of the great revelations and personal growth that came through in this book.


Read Full Review?