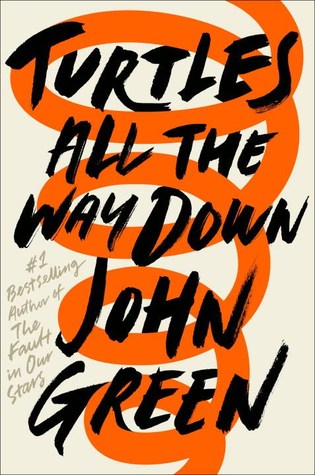 Title: Turtles All The Way Down
Author: John Green
Published: October, 2017 by Dutton Books for Young Readers
Pages: 304
Rating:






Purchase: The Book Depository
Sixteen-year-old Aza never intended to pursue the mystery of fugitive billionaire Russell Pickett, but there's a hundred-thousand-dollar reward at stake and her Best and Most Fearless Friend, Daisy, is eager to investigate. So together, they navigate the short distance and broad divides that separate them from Russell Pickett's son, Davis.

Aza is trying. She is trying to be a good daughter, a good friend, a good student, and maybe even a good detective, while also living within the ever-tightening spiral of her own thoughts.
Final Thoughts:
I don't know if this book helps with anxiety or makes it worse. Having just started meds for my own anxiety, this struck a chord, making me question my own thoughts at times, wondering just how many were my own and which ones were the anxiety talking. Aza's condition seemed to be on the extreme side, having arguments with herself, trying to fight the impulses convincing her to do things she didn't want to do. It was hard to read, becoming very disturbing the deeper I got, still, it does a great job at highlighting just how hard it is living with mental illness. The missing billionaire mystery helps bring in some levity, with the friendship between Aza and Daisy stealing the show. Sure, there's a romantic sub-plot with the billionaire's son, but the two main girls and Aza's own issues are where the heart of the book is at.

Read Full Review?