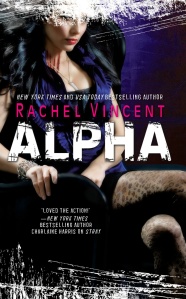 Title: Alpha (The Shifters #6)
Author: Rachel Vincent
Published: October, 2010 by Mira
Pages: 472
Rating:






Purchase: The Book Depository
The unscrupulous new Council chair has charged Jace, Marc and me with trespassing, kidnapping, murder and treason. Yeah, we've been busy. But now it's time to take justice into our own hands. We must avenge my brother's death and carve out the rot at the heart of the Council. It's not going to be easy, and loss seems unavoidable, but I have promised to protect my Pride, no matter what. With a target on my back and Marc at my side, I'm heading for a final showdown that can—that will—change everything forever. A showdown I'm not sure I'm ready for. But life never waits until you're ready.
Final Thoughts:
Wow, this book had my emotions all over the place. In the middle of an all-out war Faythe just can't catch a break. It's one of those tense reads where if something can go wrong, it will. And aside from her Pride problems, her love life isn't much better. Torn between two guys (oh the pain of it) and with Calvin Malone well and truly on the bus to power hungry crazy town, Faythe's life is one colossal mess.

In Marc's words, "You screwed up–you screwed him." That's pretty much the driving subplot of Alpha. Stuck in the middle of two men she can't choose between. Marc is angry that she cheated on him back in Prey (book four) and won't even touch her now. Jace wants to touch her but she won't let him, at least while Marc's keeping his distance. The rivalry over her is getting out of control as each guy tries to convince her to choose him. There's plenty of door slamming and brooding snarls, there's even a scene where one of them gets a little too enthusiastic with her ending in a rough quickie out in the shed.
With Malone now heading the Council, and wasting no time enacting crazy laws, almost all designed to harm Faythe in one way or another, things are looking very bad. It's one of those books that drive you crazy as things seem to keep going wrong for your favourite characters no matter what they do. I felt myself having crazy impulses to strangle Calvin Malone, or at least hold him down while Faythe gets her claws into him.
I really love Faythe's transformation. She started out as a whiney girl wanting her independence way back in Stray but quickly started to grow into herself as she took on more responsibility. Here she's smart, tough and sadistically funny. I can't count the number of times her enemies have called her a bitch. It's not her fault though that she can so easily lead them on by their dumbstick (Ally McBeal reference, yes I know). With lots of new responsibilities thrust upon her, she really is forced to look at herself and the way she's been acting. War is raging on and it's up to her to win it.
There's plenty of shifter-filled action with a great amount of blood and loss. Old friends reuniting and new allies made. This is the war the whole series has been leading to.
By the end I was amazed at how well Rachel Vincent managed to tie this series together. I am definitely glad that I stuck with this one. I think one of my favourite scenes had to be where Faythe relived every single bad memory she'd experienced since Stray using every ounce of pain to draw inner strength.
Recommended to:
Those who like a good love triangle, megalomaniacal villains and plenty of shapeshifter action!