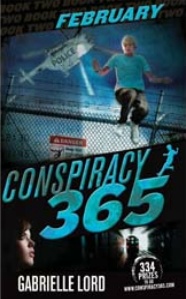 Title: February (Conspiracy 365 #2)
Author: Gabrielle Lord
Published: February, 2010 by Scholastic
Pages: 183
Rating:






Purchase: The Book Depository
On New Year's Eve, Callum Ormond is chased down the street by a crazed man with a deadly warning: They killed your father. They'll kill you. You must survive the next 365 days! Now he's on the run. The people who killed his father want him dead, and the police are chasing him for a crime he didn't commit. A month has gone by and he's still no nearer to solving the Ormond Riddle, the family secret that has turned his life into a nightmare. Can he trust the mysterious Winter Frey, or will she lead him further into danger? He has 334 days. The clock is ticking…
Final Thoughts:
A quick afternoon read with lots of suspense. Only lessened by the fact that there are 10 more books therefore the main character isn't going to be bumped off just yet.

Cal's been on the run for a month now living out of an abandoned house. His best friend, Boges, has been bringing him rations, but it's not enough to live on. In the space of one month he's already managed to get himself kidnapped by two different criminal gangs, been accused of attacking his little sister and shooting his uncle. So the police are after him as well. Life's not going so great. He can't go home because even his own mother doesn't believe he's innocent.
Determined to clear his name and solve the mystery his father died trying to protect, Cal starts hunting down any clues he can find. In the midst of that, he meets a strange girl with ties to one of the criminal gangs. He wants to trust her; he really needs people on his side. He's just not so sure what her motives are.
This one was much the same as the first book, action, suspense and more questions. They're very slim making them a quick read. While the first book spent its time introducing the people in Cal's life and the mystery surrounding his family, this one focussed more on the aspect of living alone and what it was like to be homeless. There's one scene where some kids throw a rock at him when they find him sleeping in the park, which anger's Cal as he realises that many more people than him live like that every day.
While February centers mostly on Cal sneaking around the city picking up clues, the action is still here as he comes under more and more bad luck. Romance is distinctly lacking as this series is aimed at an early male teen audience. If I were eight years younger I'd probably have rated this higher. It's enjoyable for what it is and there's enough intrigue behind the plot to keep me reading this series to the end.
Recommended to:
Those who enjoy mystery and 'us against the world' situations.