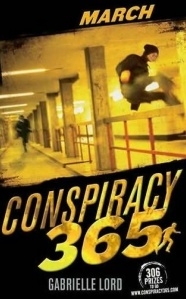 Title: March (Conspiracy 365 #3)
Author: Gabrielle Lord
Published: March, 2010 by Scholastic
Pages: 181
Rating:






Purchase: The Book Depository
On New Year's Eve, Cal is chased down the street by a crazed man with a deadly warning: They killed your father. They'll kill you. You must survive the next 365 days! Now everyone's searching for Cal, the psycho kid who's meant to have attacked his uncle and put his sister in a coma. He's desperate to clear his name and protect his family, but he also has less than a year to solve an ancient family secret: the Ormond Singularity. And the closer he gets to the truth, the more dangerous his life becomes. He has 306 days. The threat is growing…
Final Thoughts:
The story is still building its web. Mystery, action and the strength of friendship. Fun light reading.

Rescued from the clutches of a train track amidst an oncoming train, Cal is introduced to Repro, an eccentric homeless man, sometimes doctor and black belt holder. Repro's also on the run but nowhere near as famous as Cal with his front page fugitive status. Living inside a filing cabinet, this man hides away collecting anything and everything that's left behind at the train station.
In order to keep Repro out of harm's way Cal is back on the run again aided by his best friend, Boges, and the occasionally helpful girl, Winter. Determined to clear his name and get his life back to normal, Cal is hunting down anything related to the Ormand Riddle.
There are some close calls again, including a meeting with the elusive Jennifer Smith (finally), and some very big snakes. Not a lot really happens since the books are so short, but the plot is still moving. I found myself enjoying March a bit more than the last book. Winter and Boges finally meeting each other gave it a sense of solidarity as their little group started coming together.
The mystery is still, well a mystery, and with nine more books I suppose that's a good thing. Bits are being thrown about, I'm especially interested in why Cal is seeing someone who appears to be his doppelganger, yet he never manages to approach this boy with something always getting in the way. Hopefully that happens in the next book. As always, this ended on another cliffhanger. Can't wait to see how he manages his way out of this one.
Recommended to:
Those enjoying mystery and action.