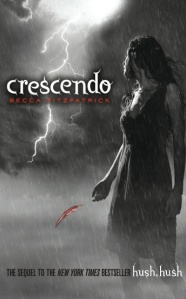 Title: Crescendo (Hush, Hush #2)
Author: Becca Fitzpatrick
Published: October, 2010 by Simon and Schuster
Pages: 427
Rating:






Purchase: The Book Depository
Nora should have known her life was far from perfect. Despite starting a relationship with her guardian angel, Patch (who, title aside, can be described as anything but angelic), and surviving an attempt on her life, things are not looking up. Patch is starting to pull away, and Nora can't figure out if it's for her best interest or if his interest has shifted to her arch-enemy Marcie Millar. Not to mention that Nora is haunted by images of her father and she becomes obsessed with finding out what really happened to him that night he left for Portland and never came home.

The farther Nora delves into the mystery of her father's death, the more she comes to question if her Nephilim blood line has something to do with it as well as why she seems to be in danger more than the average girl. Since Patch isn't answering her questions and seems to be standing in her way, she has to start finding the answers on her own. Relying too heavily on the fact that she has a guardian angel puts Nora at risk again and again. But can she really count on Patch, or is he hiding secrets darker than she can even imagine?
Final Thoughts:
I enjoyed Hush, Hush a lot more than this instalment. I just felt frustrated throughout the majority of this book. Nora is the same as always, and if there's harder way to go about something, she'll find it.

Having broken up with Patch to protect him from banishment by the Archangels, Nora tries to refocus her energy on summer school and dealing with Marcie Millar's unwarranted bitchiness towards her. With Patch now spending more of his time Marcie, jealousy starts to consume Nora. Armed with Vee at her side, they're back to their old antics again. Ordering junk food at every turn while on their little crazy 'reconnaissance' missions, the things they get up to leave me staring blankly at the pages in disbelief. Danger doesn't seem to register in Nora's brain. Soaking wet, then finding a door labelled 'Danger: High Voltage', of course she would just walk right in.
Nora has to be one of the most frustrating main characters out there. Her life is laced with mountains of unnecessary drama. I mean, she wants Patch, and then says she doesn't want Patch. But as soon as he leaves her alone she's moping around wanting to see him again. It goes round and round in a vicious circle. I seriously have no idea why he even puts up with her. Added to that, a new boy, Scott, comes to town and he's definitely got Nora in his sights. Not someone your mother would approve of, Nora is instinctively drawn to spend time with him. Patch doesn't approve, but that makes him that much more appealing and so Nora takes every chance she gets to shove Scott in his face.
I found myself grinding my teeth at her reluctance to listen to Patch. I still enjoyed reading this though, Becca Fitzpatrick's writing style is composed well and very addictive, I love this world. It's just the situations she continually puts Nora in were beyond ridiculous. I mean, how many normal people find themselves out on ledges clutching a walkie talkie? Or willingly put themselves in the middle of a potential bar brawl? Yep you guessed it, only Nora.
With the lack of Patch's witty banter and smouldering kisses in her life, I was left with an empty feeling which is why I think I greatly preferred Hush, Hush over this. I did enjoy delving into mystery behind Nora's father's death though. It was handled really well and kept me guessing for most of the book in between all my yelling at Nora to take Patch back. With the way this one ended I have high hopes for Silence and can't wait to dive back into it.
Recommended to:
Those who enjoyed Hush, Hush, there's plenty more high school drama, bad boys and ridiculous antics.