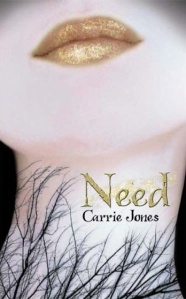 Title: Need (Need #1)
Author: Carrie Jones
Published: December, 2008 by Bloomsbury
Pages: 306
Rating:






Purchase: The Book Depository
Zara White suspects there's a freaky guy semi-stalking her. She's also obsessed with phobias. And it's true, she hasn't exactly been herself since her stepfather died. But exiling her to shivery Maine to live with her grandmother? That seems a bit extreme. The move is supposed to help her stay sane…but Zara's pretty sure her mom just can't deal with her right now.

She couldn't be more wrong. Turns out the semi-stalker is not a figment of Zara's overactive imagination. In fact, he's still following her, leaving behind an eerie trail of gold dust. There's something not right – not human – in this sleepy Maine town, and all signs point to Zara.

In this creepy, compelling breakout novel, Carrie Jones delivers romance, suspense, and a creature you never thought you'd have to fear.
Final Thoughts:
Very addictive. I love when a romance is able to capture you so easily. Pixies, shifters and lots of phobia naming make for a very fun read.

Zara's shipped off to live with her grandmother, Betty, in a snowy country town after months of depression over her stepfather's death. Betty is kind of kick-ass, the grandmother I'd love to have. She leads a busy life running marathons, getting her black-belt and working as an EMT while still managing to talk boys and drop bouts of sarcasm as good as the next teenager. Enrolling in the local school, Zara quickly makes new friends with the mega-enthusiastic Issie and her very close friend Devyn. Catching the eye of Nick Colt especially, the two have the typical initial run where angry words are stifled by how amazingly hot she finds him to be.
Meanwhile, Zara spots a strange man following her, initially shrugging it off. But one day she notices him outside her school and she realises she isn't the only one seeing him, her new friends see him too and none of them think it's good. He is always hiding in the distance calling her name. Creepy right? Determined to figure out what is going on in the small town, and whether it's related to the missing person's cases, the four friends set out on a library scouring mission uncovering a secret world of pixies.
Their little group of friends really made life seem more bearable in the isolated cold town, but Nick and Zara is where the heart of the story lies. Their relationship was one of those that hits you hard and fast sweeping you away in the cute teenage romance of it all. Zara tended to ask the needy, 'do you like me?' kinds of questions which seem completely stupid to stay out loud but which were exactly what we as the reader wanted to know. Nick's teasing banter and fierce protectiveness made him impossible not to love.
I'm not exactly sure why Zara felt the need to continuously wander off into the woods when she was well aware of a possible serial killer on the loose. She seemed to create unnecessary danger putting not only herself at risk but the people trying to protect her. I really enjoyed her change however from pacifist to a willingness to protect those closest to her. One thing I didn't like though was the sudden onslaught supernatural creatures toward the end. It was like, how many more can you handle. The ending also felt a little rushed, I was expecting maybe at least one more twist, but oh well, I'm still looking forward to reading Captivate soon.
I love getting caught up in these kinds of instant connection romances, it really makes for an enjoyable experience when the problem is external to the central couple rather than enduring the painstaking angst that some other books have subjected me to lately.
Recommended to:
Those who enjoy teenage romance with supernatural elements thrown in.