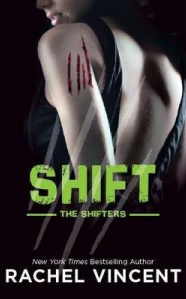 Title: Shift (The Shifters #5)
Author: Rachel Vincent
Published: March, 2010 by Mira
Pages: 441
Rating:






Purchase: The Book Depository
Being the first female werecat enforcer isn't easy. Scars accumulate, but I'm stronger in so many ways. As for my personal life? It's complicated. Choices worth making always are. Ever since my brother's death and my father's impeachment, it's all I can do to prevent more blood from spilling. Now our Pride is under attack by a flight of vicious thunderbirds. And making peace with our new enemies may be the only way to get the best of our old foe. With the body count rising and treachery everywhere, my instincts tell me to look before I leap. But sometimes a leap of faith is the only real option…
Final Thoughts:
Oh my god. That's pretty much the feeling I was left with throughout this book. Rachel Vincent is definitely not one who shies away from killing off her characters or maybe just dismembering them. The personal struggles come hard and fast. No one is safe. The internal war that has been building steadily throughout the series is coming to a peak. I'm left in awe of Calvin Malone's sheer evilness. It's brilliant.

Being book five in the series, we're well and truly involved in the werecat's secluded way of life, so to keep things fresh, a new breed of shifters has been introduced, thunderbirds. These giant birds are ferocious and a hell of a lot more equipped at instant-shifting than their feline counterparts, which makes them that much more of a threat.
Also, following on from the previous book, Prey, Calvin Malone is still trying to gain control over the Territorial Council and is willing to go to any lengths to get it. He is the epitome of evil. The way Rachel has written him, you just can't help but want him dead.
Poor Jace is still stuck in the middle of it all, and getting a fairly raw deal out of it. Having slept with Faythe in the previous novel and in great detail too, (If you like that, there's a nice shower scene in Shift as well.) he's still pining after her, yet it's been clear throughout the series that Faythe's love triangle is heavily one sided. I'm not quite sure how I feel about it. I like the Jace and Faythe scenes, they make such a fun couple with Jace's wise cracks and constant innuendos, but then there's Marc with all his stubbled masculinity who's clearly very possessive of her and won't let her go without a fight. Even so, Jace has actually done a lot of growing up since the fallout of Prey and is becoming quite a contender for Faythe's very confused heart.
The core of the story though lies in the mistaken identity going on which is causing a great deal of trouble. The thunderbirds think someone from Faythe's Pride killed one of their cocks (yes, this is how they refer to themselves) and are determined to make the whole Pride pay for it. Violence ensues and isn't going to stop unless Faythe can somehow find proof that her Pride is innocent. Certainly no easy task when everyone around you is trying to kidnap or even kill you.
For the greater part, Shift focussed less of the actual shifting aspect and more on the power struggles and plotting going on between the Prides. I really liked it for that. I know the series is called 'The Shifters', but I actually prefer the human interaction a whole lot more. Of course the action makes it exciting keeping you flipping through the pages, but I do enjoy a good verbal sling match in between Faythe's attempts at beating the living daylights out of her opponents.
Recommended to:
Those who like their paranormal books with a bit of sex, bloody violence and the occasional coarse language.