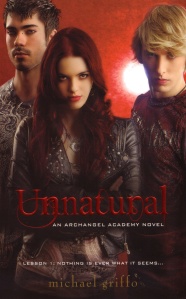 Title: Unnatural (Archangel Academy #1)
Author: Michael Griffo
Published: February, 2011 by K Teen (Kensington)
Pages: 480
Rating:






Purchase: The Book Depository
In the town of Eden in northwestern England stands the exclusive boarding school known as Archangel Academy. Ancient and imposing, it's a place filled with secrets. Just like its students…

For Michael Howard, being plucked from his Nebraska hometown and sent thousands of miles away is as close as he's ever come to a miracle. In Weeping Water, he felt trapped, alone. At Archangel Academy, Michael belongs. And in Ciaran, Penry, and especially Ciaran's enigmatic half-brother Ronan, Michael finds friendship deeper than he's ever known.

But Michael's only beginning to understand what makes the Academy so special. Ronan is a vampire—part of a hybrid clan who are outcasts even among other vampires. Within the Academy's confines exists a ruthless world of deadly rivalries and shifting alliances, of clandestine love and forbidden temptations. And soon Michael will confront the destiny that brought him here—and a danger more powerful than he can imagine…
Final Thoughts:
Slow to start, but stick with it and you'll be greatly rewarded. Michael and Ronan will keep you glued to the pages. Full of snarky vampires, apathetic mothers and controlling fathers, Unnatural comes as a fresh breath in the vampire/boarding school genre.

Soooo many different points of view! While we do have our main ones, Michael and Ronan, taking up most of the book, it seems that whenever someone new comes into a scene we keep switching back and forth, sometimes even paragraph to paragraph. It did get a little tiring trying to keep up on who was thinking what, but I managed to get a hang of it after a while.
That being said, I did actually enjoy the book. The first four chapters, while Michael's still in America, were a little slow, but they are necessary in gauging his headspace. His life there was horrible and very relatable, and given the chance to move away and start anew in England, who wouldn't take it.
The elite all boys boarding school, Archangel Academy, is where Michael's world changes and he finally starts to feel like he belongs, to actually be himself and make friends, something he could never do in his old life back in America. But making friends is the least of the changes in his life. The greater focus of this novel is Michael's first love, Ronan. The two are inexplicably drawn to each other, swept up in a fury of emotions that they can't deny. The relationship builds outwards from the initial flirting, to the prospect of dating and eventually into more, though it isn't without its obstacles. This is probably the main selling point for this book. Such an engrossing gay teen romance is rare in a lot of books, especially between main characters.
The romance is however matched with an equally exciting paranormal plot. Ronan is a vampire. Not an ordinary vampire however. He is a special breed that doesn't fear the sunlight and only requires feeding once a month and the regular vampires hate him for it. Determined to cause him misery, Michael, ignorant to the supernatural world hovering around him, becomes their target.
Not to be outshone though, the other characters do get their share of character development as well, mainly due to the POV switching. Ronan's still-human brother, Ciaran, has a lot of feelings going on inside. This is accentuated as the people in his life tend to overlook him in favour of Ronan, yet they don't seem to realise how integral his presence can be. Ciaran has to be one of the more interesting side characters, but I especially enjoyed Edwige, Ronan's vampire mother, too; her not so maternal instincts were entertaining to say the least.
With all the blood being spilled, Archangel Academy is becoming anything but a safe haven. Choices have to be made and alliances formed. Even with the multitude of POV's I thoroughly enjoyed this, racing through it on my Saturday afternoon. Can't wait for more Michael and Ronan in Unwelcome.
Recommended to:
Those who enjoy their vampires lusting after hot teenage boys.