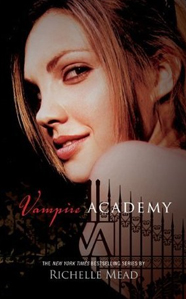 Title: Vampire Academy (Vampire Academy #1)
Author: Richelle Mead
Published: August, 2007 by Razorbill
Pages: 332
Rating:






Purchase: The Book Depository
St. Vladimir's Academy isn't just any boarding school; it's a hidden place where vampires are educated in the ways of magic and half-human teens train to protect them. Rose Hathaway is a Dhampir, a bodyguard for her best friend Lissa, a Moroi Vampire Princess. They've been on the run, but now they're being dragged back to St. Vladimir's; the very place where they're most in danger…

Rose and Lissa become enmeshed in forbidden romance, the Academy's ruthless social scene, and unspeakable nighttime rituals. But they must be careful lest the Strigoi; the world's fiercest and most dangerous vampires make Lissa one of them forever.
Final Thoughts:
Not an instant favourite, but still very enjoyable for fans of the vampire genre. Tough females and high school bitchiness, add to that some hot guys and you have a very fun read.

We're first introduced to a couple teenage girls on the run as they get caught by the sexy guardian, Dimitri, and dragged back to their elusive boarding school hidden away in rural America. Things there have changed since Rose, a mostly-but-not-quite-human girl, and Lissa, a Moroi (good vampire), last set foot in the academy. No longer at the top, people are snickering behind and in front of them, especially Mia, a younger vampire girl, who has an immediate intense hatred for the two of them that they can't seem to place.
Mixed amongst the teenage drama of cliques and boys, Rose gets thrust back into an intense training schedule in order to hopefully become the guardian she needs to be to protect Lissa. Topping off her regular classes, she's also forced into some extra one on one sessions with Dimitri, not that that's such a bad thing. His strong will and belief in her only make her want him more. If only he didn't have an extra seven years on her 17 years of age.
I didn't love this book straight away, rather it worked its way up on me as we got to know more of what made the characters tick. About half way through, it surprised me going from 'enjoyable enough' to 'I'm really liking this.' I think Rose's toughness, self-assurance and sly quick wits helped draw me to her. But the fact that she wasn't recklessly stupid was a real big thumbs up in my eyes. The drama kept it fun, sure Rose and Lissa got pushed around a lot, but they push back. Rumours, tears and snarky retorts ensued, I love it. Not forgetting the title of the series, the vampire lore was different too. I especially liked the idea of mortal vampires who need protectors and the use of the term 'blood whores,' which I think Richelle managed to fit at least once into every chapter.
I was grateful for the way the romance was handled. It wasn't overly gooey irrational instant love, not that I have a problem with that, I just liked the change. Flirtatious hints were thrown about equally between Rose/Dimitri and Lissa/Christian allowing each time to manifest believably (and to provide us with more enjoyment as we got to see the characters squirm). Being told in first person, the addition of Rose's Lissa channelling ability really helped expand the universe (particularly my views on Christian) beyond Rose's own perceptions of it while at the same time creating some very fun plot potential.
I know I'm late getting into this series, but I thought I'd better get through them before Bloodlines is out later this year. I'm glad I took the time to check this one out, I can't wait to get stuck into Frostbite.
Recommended to:
Those who enjoy vampires and high school drama.