Waiting on Wednesday was started by Breaking the Spine and serves to showcase those pesky books that aren't released yet, but that we're eagerly awaiting! This week, my WoW is…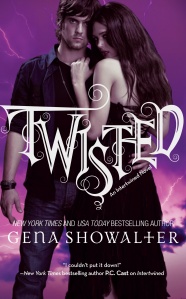 Title: Twisted (Intertwined #3)
Author: Gena Showalter
Published: 30 August, 2011 by Harlequin Teen
SIXTEEN-YEAR-OLD ADEN STONE HAS HAD A HELL OF A WEEK. HE'S BEEN:
Tortured by angry witches.
Hypnotized by a vengeful faery.
Spied on by the most powerful vampire in existence.
And, oh, yeah. Killed – twice.
His vampire girlfriend might have brought him back to life, but he's never felt more out of control. There's a darkness within him, something taking over… changing him. Worse, because he was meant to die, death now stalks him at every turn. Any day could be his last. Once upon a time, the three souls trapped inside his head could have helped him. He could have protected himself. But as the darkness grows stronger, the souls grow weaker – just like his girlfriend. The more vampire Aden becomes, the more human Victoria becomes, until everything they know and love is threatened. Life couldn't get any worse. Could it?
I love the cover for this, but that's not why I'm waiting on it. The first two books, Intertwined and Unraveled were a whole lot of fun, full of vampires, werewolves, faeries and witches, so you're certainly not lacking in the paranormal department. The point of difference though is that Aden's head is home to four other souls with special abilities: Seeing the future, Time travelling, Raising the dead and Possessing other people. Amongst all of that, romances ensue and trouble comes looking.
What are you waiting on? Feel free to link me up and I'll check yours out!