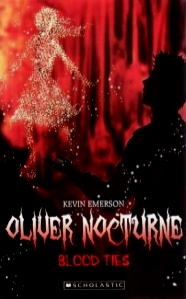 Title: Blood Ties (Oliver Nocturne #3)
Author: Kevin Emerson
Published: June, 2009 by Scholastic
Pages: 224
Rating:






Purchase: The Book Depository
To avoid the summer sun, the Nocturnes head for vacation at Isla Necrata, a resort whose location always changes, putting it near a geologic calamity- most often a volcanic eruption. As a bonus, Oliver is allowed to bring Dean along, the only catch being that he has to pretend to be Oliver's servant. Before they get there, the Nocturnes must endure a particularly uncomfortable visit with Oliver's extended, Old World vampire family, who live in Morosia, a vampire city underneath Rome.

At the same time, Oliver discovers that Emalie has stowed away, believing that Morosia may hold clues to her mother's whereabouts. Oliver must keep his family from finding out about her, sneak out of family obligations to meet up with her on the surface, and search for the oracle that predicted his destiny, which he learns is in the Asylum Colony, somewhere deep beneath Morosia.
Final Thoughts:
More of the same if you've read this series before. Oliver's off on family vacation tracking down information on his vampire prophecy. Dean's zombieness made is enjoyable enough to get through.

Dean's family have restructured their lives after the revelation that their son is now a zombie. Eating brains and grinding chicken bones are the norm. Emalie is also coming into her powers as an Orani, after training with her aunt. She's now able to enter people's minds and interact with them telepathically, which can come in handy. With school finishing, Oliver and Dean head off on a summer vacation to the Old World, Morosia, where his grandparents live.
His grandparents are heavily rooted in their old style ways, always taking every opportunity to show their disapproval of the way Oliver's parents choose to live. Arguments ensue between parent and grandparent, much to Oliver's enjoyment. Meanwhile, Emalie has also managed to sneak away to a town nearby Morosia to meet up with the boys in search of a great oracle. The book centres on this search, as the three teens stumble through casinos, museums and even an asylum.
I tried liking this one, but I felt like I would have enjoyed it more if I was younger. The fact that Oliver lived on Twilight Lane and they had airline called Twilight Air irked me. I thought Dean's character helped the book out though. He has gone from a barely there, wimpy character in book one, to a fun sidekick who can hold his own and calls Oliver out on his eccentricities.
For a very short book, the plot is a little rushed. While Oliver's familial relationships did show some growth, which I liked, the overall plot regarding the prophecy just sort of stopped. The ending left us wanting more which is good for a book, but it just felt like more chapters were needed, not enough was accomplished. I am liking Oliver's snarkish brother, Bane, though. His plot has been unwinding little by little each book. I can't quite make out if he's helping Oliver or if he has his own agenda.
Recommended to:
Those who enjoy tween fiction, prophecies and good-guy vampires.