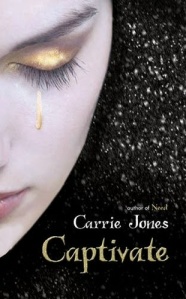 Title: Captivate (Need #2)
Author: Carrie Jones
Published: January, 2010 by Bloomsbury
Pages: 273
Rating:






Purchase: The Book Depository
Zara and her friends thought they'd solved the pixie problem. And they did — sort of. The pixies are all locked away, deep in the woods. But the king's needs grow stronger each day that he is in captivity, while his control over his people weakens. And it's enough to draw a new king into town. Astley claims he is different. He claims there are pixies who can live peacefully with humans, that it doesn't have to be all violence and nastiness all the time. Zara wants to believe him . . . until Astley also claims that she is fated to be his queen.
Final Thoughts:
Zara hasn't changed, she's still rushing into bad situations without thinking. We get to see a new side to the pixies as more come to town searching for Zara. Not as creepy as the first book, and still plenty of romance. Definitely read this if you loved Need.

More pixies are arriving in town, so Zara and her arsenal of shifter friends are staging patrols to capture and transport any newcomers into the iron-clad mansion in the middle of the woods. Pixies hate iron; it burns them with a single touch, so therefore they're trapped. Also, Zara's upset with her boyfriend, Nick, for breaking their group's rule of never patrolling alone, but before long, she's out doing the exact same thing herself. Acting stupidly with good intentions seems to be her mantra. At least this time around, she's learnt not to follow creepy voices calling your name in the woods anymore.
On her quasi-patrol, Zara stumbles across a hot young blonde pixie named Astley. Now wherever she goes, she keeps seeing him. It's much like the plot of Need, except Astley's more flirty in his pursuit than creepy. It doesn't seem to make much sense, though. It's made very clear that Zara is madly in love with Nick. It's always Nick and Zara going, "I love you, baby…" "You too, baby." The number of times Nick called her 'baby' almost made me hurl. It was just too cutesy. I like books with romance, but seriously…
I actually really enjoyed Astley's character, even though he was trying to take her from Nick. While Nick was cute, overprotective and sometimes condescending, Astley, he was nice, quirky and a bit of a tease. He was basically a complete opposite of the pixies we've come to know so far. His presence leaves Zara questioning her thoughts on Pixies. She doesn't know whether they're all evil anymore, if Pixies can be good or bad, just like humans can.
Also, another new character, Cassidy, who they've supposedly known for years, suddenly appears now. I didn't particularly like her, she just felt tacked on for the sake of it. I was left wondering most of the book, why she was there and what her purpose would be. Added to my dislike is the fact that she's moving in on Issie's man. Even though Devyn's not exactly Issie's, it's obvious she wants him to be.
While it does sound like a lot is going on, the first half of the book actually felt quite flat. It was more of the same and really didn't seem like it was going anywhere. Replaced are the phobias at the beginning of each chapter, now we have little pixie tips. These actually seemed to fit in better with the story this time, as Zara and Devyn are making their own, 'How To' Pixie book.
The second half of the book had me in shock. I was thinking, 'What the hell, has this author gone crazy?' Huge major spoilers, so I won't go into it. After staring blankly at the pages for a while, I managed to pick it back up and raced through to the end. This part of the book was quick paced, hardly giving you a breather. It definitely made up for the tame start and actually got me hyped again. The Valhalla aspect has me wondering how different the next book is going to be. I'll be picking up Entice very soon.
Recommended to:
Those interested in paranormal romance, teen angst and evil pixies with sharp claws. Fans of Need will like this, just make sure you stick with it to the end.