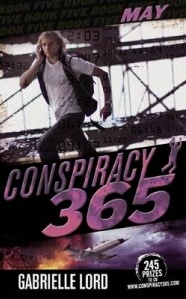 Title: May (Conspiracy 365 #5)
Author: Gabrielle Lord
Published: May, 2010 by Scholastic
Pages: 181
Rating:






Purchase: The Book Depository
On New Year's Eve, Callum Ormond is chased down the street by a crazed man with a deadly warning: They killed your father. They'll kill you. You must survive the next 365 days! Cal has hit rock bottom. He's lost the only clues he had to the Ormond Singularity: the family secret that's turned his life into a nightmare. And now, trapped in a high-security prison for the insane, he's lost his identity too. Against all the odds, he must escape and carry on his father's quest for the truth – but how? Nobody knows where he is, and no one can hear him scream. He has 245 days. His life is on the line …
Final Thoughts:
Probably the best so far in the series, plot movement wise. A bit of a shake up from the usual I'd come to expect during the first four books. Let's just say, if you don't like reading about sane people stuck in mental asylums, you are sure to be frustrated.

A great chunk of this story is experienced inside Leechwood Lodge Asylum. At the end of April Cal was drugged, waking up, arms tied in a straitjacket. A false identity had been created for him locking him away with all of the other crazy people. As you would expect, the orderlies don't believe Cal that he isn't "Ben Galloway," rather, they tell him everyone says that, so he's wasting his breath.
These types of plots infuriate me, but that's the whole point of them, isn't it? The idea of being trapped away from the outside world with no way even letting them know you're okay, it's terrifying. If you tell the psychiatrist the truth, he thinks you're crazy. But if you go along with what he wants to hear, you'll end up being called a liar. Hence my frustration.
Minor SPOILER: Cal does eventually manage to escape the asylum, in what can only be described as a very strange and quite amusing fashion. Once outside the asylum, the book splits off feeling like a new story. Cal finally manages to visit his great uncle. I was so sick of all the interruptions. It seemed like every time he was ready to go visit him, something disastrous would draw him back into the crossfire, once again putting off the visit.
I really enjoyed the second half of the book as Cal got to know his aviator-enthused great uncle. It was a change of pace, offering new insight into the complexities of his family history and the "Riddle" in which this series revolves around. Although not as much action as previous novels, I felt the stress of the asylum more than made up for that. One thing I felt particularly annoyed at was Cal's inherent ignorance over something should have been blatantly obvious to pick up on. I'll forgive him though, he had bigger things on his mind.
And just for those who've been reading my previous reviews for this series, more doppelganger hints are dropped toward the end of the book.
Recommended to:
Those who enjoy insane asylums and books with complex overarching mysteries.