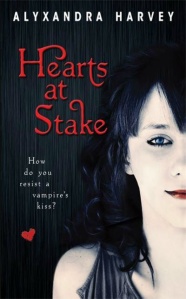 Title: Hearts At Stake (Drake Chronicles #1)
Author: Alyxandra Harvey
Published: December, 2009 by Walker Books
Pages: 248
Rating:






Purchase: The Book Depository
On Solange's sixteenth birthday, she is going to wake up dead. As if that's not bad enough, she also has to outwit her seven overprotective older brothers, avoid the politics involved with being the only daughter born to an ancient vampire dynasty, and elude Kieran Black—agent of an anti-vampire league who is searching for his father's killer and is intent on staking Solange and her entire family. Luckily she has her own secret weapon—her human best friend Lucy—who is willing to defend Solange's right to a normal life, whether she's being smothered by her well-intentioned brothers or abducted by a power-hungry queen. Two unlikely alliances are formed in a race to save Solange's eternal life—Lucy and Solange's brother Nicholas, and Solange and Kieran Black—in a dual romance that is guaranteed to jump start any romance-lover's heart. Even fans of the genre who've seen it all will find a fresh read with kick-butt characters and family dynamics that ring true for all brothers and sisters—vampire or otherwise.
Final Thoughts:
Also released as My Love Lies Bleeding in AUS/UK. Nothing ground-breakingly new to the genre, but it has plenty of action, scheming and hot vamp boys if you're interested in a quick read.

Growing up the only girl in a house full of brothers is no easy feat, especially when they're all vampires. Solange Drake is the much-prophesized, only vampire girl ever to be born, which makes her the target of many vampire suitors and slayers alike. As a sub-species of vampire, the Drake family are born human and go through the change on their sixteenth birthday. When the change comes, they will either turn vampire or simply die completely. All other vampires have to be turned the usual way, which makes the Drakes hated just as much as they are revered.
The book is told through two points of view, both written in first person, which is annoying. If it were done in third person, it would have been less confusing. Each chapter switches back and forth between Solange, and her human-best friend, Lucy. Lucy has known about vampires ever since she was little, growing up with them, always getting into arguments with Solange's now seventeen year old brother, Nicholas. Hence with every other book, they are destined for romance. Due to Lucy's hippy parents and their annual nature retreat, she goes to stay with the Drakes, getting herself caught up in the nefarious plot surrounding Solange's destiny.
The first two thirds of the book felt like a patchwork of a lot of other young adult novels. It wasn't bad, it just seemed like I was reading something I'd already read before. The big family dynamic, living secluded on a farm, bundled with the bevy of older brothers and a long awaited daughter reminded me a lot of Rachel Vincent's The Shifters series. If the vampires were werecats, I'd have been sure it was the same thing. Having Lucy's character around helped a lot though. Even though she's human, her character is much tougher than Solange's.
The romance in the book isn't full on, a couple kisses, awkward blushes, stuff like that. Lucy and Nicholas start out hating each other and then suddenly decide to kiss, and Lucy is thinking 'when did he become so hot'. It just feels like it comes out of nowhere though for no real reason. I liked their chemistry once it got started, but I just felt like laughing at some of the corny things they said.
There is a lot of vampire lore threaded throughout the novel: different species of vampire, royal hierarchies, in-fighting, vampire slayers, even special pheromones that vampires give off. While things are always happening, the real action didn't really hook me until the last third of the book. Once that happened, it started to feel like its own, giving me reason to keep going with the series. I actually started enjoying Solange's chapters, rather than wishing it would hurry up and get back to Lucy. A lot happened toward the end, which I felt could have been saved for later books. But there is plenty left open, which I hope to read about soon in Blood Feud.
Recommended to:
Those new to young adult, who are interested in a quick vampire action-romance.