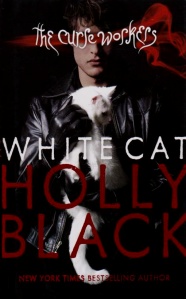 Title: White Cat (The Curse Workers #1)
Author: Holly Black
Published: May, 2010 by Margaret K. McElderry
Pages: 310
Rating:






Purchase: The Book Depository
Cassel comes from a family of curse workers — people who have the power to change your emotions, your memories, your luck, by the slightest touch of their hands. And since curse work is illegal, they're all mobsters, or con artists. Except for Cassel. He hasn't got the magic touch, so he's an outsider, the straight kid in a crooked family. You just have to ignore one small detail — he killed his best friend, Lila, three years ago.

Ever since, Cassel has carefully built up a façade of normalcy, blending into the crowd. But his façade starts crumbling when he starts sleepwalking, propelled into the night by terrifying dreams about a white cat that wants to tell him something. He's noticing other disturbing things, too, including the strange behavior of his two brothers. They are keeping secrets from him, caught up in a mysterious plot. As Cassel begins to suspect he's part of a huge con game, he also wonders what really happened to Lila. Could she still be alive? To find that out, Cassel will have to out-con the conmen.
Final Thoughts:
Insight into the workings of a teenage boy: One who killed his girlfriend, scams his schoolmates, and shies from his crime-driven, magic-infused family. Basically an addictive read.

Cassel's been sent home from boarding school on "temporary" leave after a bout of semi-naked sleepwalking on the school's roof. Back with his grandfather, he's stuck cleaning out his mother's over-hoarded house, while they await her release from prison. His mother is an emotion worker, caught trying to trick rich men into leaving her all their money. Cassel is the only one in his family not born a curse worker. His older brothers, as well as his grandfather, all have their own abilities, leaving Cassel as the black sheep they all look down upon.
Cassel's from a family deeply embedded in the crime scene. As curse working is illegal, curses are implemented in secret and paid for by these criminal families. With just one touch, you could be cursed. Therefore, everyone in this world wears gloves of some sort for fear of being worked, as well as showing themselves as no threat. While at home, trying to get out of cleaning, Cassel stumbles across a white cat, that's when things start to get weird.
Cassel is such an fascinating main character. He's from a family of crooks, so he's learned a few things along the way. He believes himself to be a perfect con-artist, which he kind of is. He's always eyeing his next mark, finding out how someone can be useful to him. Things like friendship seems irrational to him, which makes being inside his head that much more interesting. Most of the book is spent solitary, which I rather enjoyed. There are other characters around him, but because he's so closed off, choosing how he displays himself to them, you really feel like it's him against the world.
The world created here by Holly Black is very different from anything I've read before. I love the fact that Cassel found the thought of bare hands touching him repulsive, while someone else had "pornographic" images of hands being un-gloved on their computer. I even found myself wincing at one point as I tried to read Cassel's attempt at self-surgery. Further cementing the world as one of greater substance were the government's anti-worker attitudes and propositions of identifying workers. It posed greater philosophical questions over what is right, protecting people from the possibility of being worked, even if it means exploiting those with no way of controlling how they were born.
Originally I hadn't planned on reading this, I'm not sure why, but I am so relieved that I finally picked it up. I was engrossed, unable to stop reading and get things done in my real life. While not as much romance as I'd like in a book, it did hint at possibilities further down the line.
Recommended to:
Those who enjoy the inner workings of crime, family politics and a change from the regular young adult.