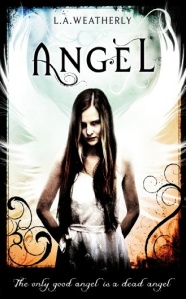 Title: Angel (Angel #1)
Author: L.A. Weatherly
Published: October, 2010 by Usborne Publishing
Pages: 506
Rating:






Purchase: The Book Depository
Angels are all around us: beautiful, awe-inspiring, irresistible.

Ordinary mortals yearn to catch a glimpse of one of these stunning beings and thousands flock to The Church of Angels to feel their healing touch. But what if their potent magnetism isn't what it seems? Willow knows she's different from other girls. And not just because she loves tinkering around with cars. Willow has a gift. She can look into people's futures, know their dreams, their hopes and their regrets, just by touching them. But she has no idea where she gets this power from.

Until she meets Alex…
Alex is one of the few who know the truth about angels. He knows Willow's secret and is on a mission to stop her. The dark forces within Willow make her dangerous – and irresistible. In spite of himself, Alex finds he is falling in love with his sworn enemy.
Final Thoughts:
I loved the main characters. Both were strong willed, competent, and slightly broken. A great angel plot, as an angel-loving cult sweeps the nation. With the two leads on the run across America, we get to see their tense relationship blossom as they hide out among backwater motels and hotwire cars.

Willow's always had to be the strong one, growing up with a mentally incapacitated mother. She loves her cars, and knows exactly how to fix them. Her aunt having taken both her and her mother in, Willow helps out financially by giving psychic readings to anyone who wants one. When a girl from school asks for a reading, what she sees is unbelievable. Angels are real, and they are hurting people. Draining humans, but leaving them in complete bliss over the experience. Trying to warn the girl, Willow unwittingly puts herself on the angels' radar.
Alex, growing up in the desert with his father and older brother, received a different kind of education than most kids usually do. He was trained to be an AK, an angel killer. Now seventeen, Alex is on his own, driving his Porsche across America, armed with only a gun and his cell phone. Stopping in gyms after a hard days hunting to keep himself pumped, he awaits a text that will tell him his next target. He receives a text. Willow is his next target.
What I expected actually didn't happen with this one. Rather than wasting a whole book with Alex hunting after Willow with mistaken intentions, we actually got a really exciting plot. It's a long book, with just over 500 pages, and I read it in hundred page intervals spaced throughout the week. I think that helped though, as I got to appreciate each aspect of the story for longer, rather than rushing through it all. The first hundred were a little ho-hum as we were getting to know the characters separately. The book splits POV, with Willow told in first person and Alex in third. There are other POV's from the angels but they are used only sparingly, which is a blessing. Alex and Willow are where you want to be.
The angel plot felt tense with real stakes. I loved the idea of an angel worshipping cult-like religion. Weatherly has created a world where nearly all of America is devoted to angels walking among them. With Willow as a possible threat to their angels, it's fun to see their devotion so easily turn to violence. There are some exciting chase scenes involving gun toting hillbillies. I really enjoyed the action, there was plenty of it spaced throughout the book. It never felt like nothing was happening.
What got me the most about this book was the romance though. It wasn't executed perfectly, but I still heavily enjoyed it. The way it built up, slowly, with our two leads actually getting to know each other, gave me hope. There's snarky banter between them. Lots of internalising their feelings, thinking the other one doesn't feel the same. There is a lot of one on one time as they drive across the country together, even a shopping trip to Kmart to stock up on underwear. What annoyed me a little though was their sudden bursts of 'I love you' verbal diarrhoea after only their first kiss. The kiss was well waited for though, I remember myself begging them to hurry up and do it. I get that they've had this pent up attraction to each other, but falling in love after only a week… I think it would have had more meaning had the words been saved for later in the story.
Even so, the characters had real emotion to them, not just in the romantic sense. Both leads have had a hard life which I think made them more sympathetic and grounded. Neither of them are stupid or reckless which unfortunately seems to be the case in a lot of other books, *cough cough* Nora. Willow actually knew to put others safety before her own selfish wants, even if it hurt. I really respected her for that. I couldn't help feel for Alex, having had such a tough upbringing, even more so than Willow. It was really a journey story, one of those books where I simply couldn't stop grinning as I flipped through the pages.
Recommended to:
Those looking for an angel book where the leading female actually has a backbone. If you're after romance, there is more than enough of it here.