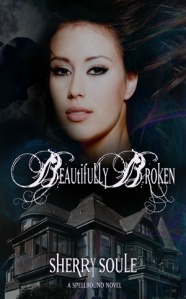 Title: Beautifully Broken (Spellbound #1)
Author: Sherry Soule
Published: July, 2011 by Moonlight Publishing
Thanks: Sherry Soule
Pages: 316
Rating:






Purchase: Amazon.com
Thirteenth daughter. Heritage witch. Demon slayer.

They say every town has its secrets, but that doesn't even begin to describe Whispering Pines. The townsfolk are a superstitious lot and the mystical disappearance of a local teen has everyone murmuring about a centuries old witch's curse.

Sixteen-year-old Shiloh Ravenwolf is a heritage witch from the Broussard family, a family both destined and cursed. When she takes a summer job at Ravenhurst Manor, she discovers a ghost with an agenda. That's where she meets the new town hottie, Trent Donovan, and immediately becomes spellbound by his charms. Yet she is determined to discover the connection between them before it's too late.

Finally, Shiloh's met someone who is supercute and totally into her, but Trent may be the next victim on the supernatural hit list. And Shiloh is the only person with the power to save him. Complicated much?
Final Thoughts:
A cursed girl comes into her magick at just the wrong time. With a hot, mysterious new guy in town, he brings a summer romance full of angst. Meanwhile, teens are going missing, and creepy things are always lurking in the shadows, threatening to get her. A fun read if you're looking for something dark and witchy to occupy your time.

Finding out you are a witch isn't easy. Life was already hard enough for Shiloh, already labelled the freak girl, being chased by the supernatural was all she needed. In such a small, insidious town, rumours spread like wildfire, which is exactly what happens when a mysterious, wealthy young guy returns to town. Trent, who takes up residence in the local haunted house, has everyone dying to know him, but he only has eyes for Shiloh. With school out for summer, Shiloh lands a job working for Trent's quirky, architect uncle, as he remodels the Ravenhurst Manor in which his nephew lives.
That means more time with Trent, all should be good. She's attracted to him, he's attracted to her… simple right. But with Shiloh, her life is anything but normal. Marked for death, demonic forces are hunting her, a cryptic ghost haunting her, and her dysfunctional parents hounding her, Shiloh needs to learn how to embrace her magickal birth-rite and fast. Teens are going missing, as the town's hidden demons lurk closer, a multitude of death seeming inevitable. With everything falling apart around her, she seeks help, but not everyone wants to listen. It's magick after all.
The first thing I noticed while reading this, were the pop culture references everywhere. It's something I find enjoyable in a book, giving it that relatable feeling. You can clearly see that Soule is a fan of the cult hit TV show, Charmed, which gets quite a few mentions. I loved that show growing up, so reading this made me wonder why I haven't been reading more witchy stories yet. The book feels well researched and the writing flows well, as Shiloh learns quite a bit about Wicca and her inherent talents along with us. This is a time when first person narration really helps the book.
Shiloh's friends didn't get as much time spent fleshing them out as I would have liked. I felt like this lessened the impact of their subplots. Shiloh however, I did feel close to. Her stress toward the end of the book was permeable. I simply couldn't put it down. I was actually walking through a car dealership with my mother, with my face hunched over, eyes glued to the pages. Great detail was given to fact that Shiloh never allowed her wrists to be seen, always wearing some hoodie or jacket of sort, even over a dress. I also noticed her habit of scratching away at her painted fingernails. Not quite sure what that was about, but it happened often enough to be memorable. One thing I found ridiculous though, was Shiloh's lax attitude at using a Ouija board with her friends, especially inside the haunted house. She can see ghosts, she knows it's not safe, but she does it anyway.
I really liked Trent. He played the cocky, hot guy, but also managed to come across as adorable and caring at the same time. What I couldn't understand though was, with all the blaring hints at the supernatural around him, why was he so blind to it. Shiloh and Trent were a great couple, but they were also a frustrating one. They went back and forth constantly. They'd be getting closer, kissing, basically all the good stuff, but then arguments would arise, forever ruining the moment. They'd apologize and things would be great, but then it would happen all over again. Don't get me wrong, Trent really was adorable, and I could feel the chemistry between them. I really loved reading all of their scenes together. If only their relationship wasn't so bumpy.
There is definitely an eerie vibe to this one, as ghosts and creepy shadows impose themselves on Shiloh's everyday life. She earns her 'weird' badge amongst the town's inhabitants easily enough. The supernatural plays a heavy role in this story, rather than over-relying on the angst to drive the plot. The angst is there though, but it's more a story of Shiloh as she embarks towards her transformation from novice, to the powerful witch she's destined to become. Honestly, while I was reading this, I had no idea how it was going to end, which is always good. A lot was happening, so I knew I had to race through the second half. There were lots of hints laced throughout, setting up a juicy twist, but it never actually eventuated though. Maybe the reveal is being saved for the second book, at least that's what I'm hoping.
Recommended to:
Those interested in magic and who enjoy angsty teenage romance. It's kind of like Charmed meets a darkened version of Sabrina the Teenage Witch.