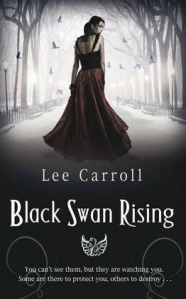 Title: Black Swan Rising (Black Swan Rising #1)
Author: Lee Carroll
Published: July, 2010 by Bantam Press
Pages: 396
Rating:






Purchase: The Book Depository
When New York City jewelry designer Garet James stumbles into a strange antiques shop in her neighborhood, her life is about to be turned upside down. John Dee, the enigmatic shopkeeper, commissions her to open a vintage silver box for a generous sum of money. Oddly, the symbol of a swan on the box exactly matches the ring given to her by her deceased mother. Garet can't believe her luck and this eerie coincidence until she opens the box and otherworldly things start happening. . .

On her journey, she will meet the fey folk who walk unnoticed among humans and a sexy vampire who also happens to be a hedge fund manager that she can't stop thinking about. Whom can Garet trust to guide her? Using her newfound powers and sharp wit, Garet will muster everything she's got to shut down the evil taking over her friends, family, New York City, and the world.
Final Thoughts:
What an unexpectedly amazing book. More people should be reading this. Plenty of action as creepy fog demons terrorise New York City. I loved the dreadlocked mentor and the vampire romance had me demanding more. This is one you shouldn't pass up.

I was taken completely by surprise with this one. It's adult fiction urban fantasy, but any young adult reader would feel at home in this world of demons, fey and vampires. Garet, now twenty-six, still lives at home with her eighty-something father in their New York townhouse. Operating an art gallery from the bottom floor is their only source of income, and with the economic downturn (stick with me here), their mortgage is being recalled. With their money problems, Garet accepts a job to open an old silver box with an adorning swan clasp using her skills in metallurgy.
Shortly after however, their home is robbed and the box is gone. With an officer from the art crimes division poking around her family and friends, and fog demons unleashed on the city, a faery king sweeps his way into Garet's life. But not before she stumbles upon a cute blonde, centuries old vampire/hedge fund manager, named Will, with ties to her past. With lots to learn and very little time before the demons gain their true power, Garet needs to follow her dreadlocked faery's every word if she is to hope of saving New York and everyone in it.
I liked lots of things about this book. Garet was a wonderful main character. She was sceptical at first of the otherworldly things happening, often shrugging them off as ocular degeneration caused by her metalwork. But I liked that she was able to accept the paranormal once confronted with fact, rather than wasting time wallowing in disbelief. She still had all the energy and relatability of a young adult heroine, but without the idiocy-in-the-face-of-danger trait. It was reassuring to see that she was still very much involved in the lives of her two best friends from high school, Jay and Becky, who frequent her place when not performing gigs in their indie band, London Dispersion Force.
Her friends were boisterous and caring, while not taking too much time away from the main plot. I really felt for Jay, and can't wait to see what happens next for him in the series. Will, the vampire, makes a great romantic interest. He's sweet, funny and has great depth to his character. I loved getting hints at bits and pieces of his past throughout the novel. Obie was fun too. I loved his little magic post-it notes, they were a great touch. He could be a little too impatient at times though, but he was always helpful in his mentor role as Garet learned to control her abilities. There were so many different types of fey, from tiny light sylphs to huge iPhone-loving dragons. The New York setting was perfect as they darted through streets, subways, side alleys and even the Hudson river. It was such a visual book that I never once found myself bored.
The history that went into making these characters feels so rich, every one of them distinct and well developed. It was so much fun to read. The plot was full of intricacies and with a twist that had me side-barrelled in shock. The characters face real perils and with death a constant possibility, nothing seems too easy. At just under 400 pages, I was begging for more. Thankfully this is only the first in the trilogy, with The Watchtower coming out in August, 2011. So I'm happy knowing I still have plenty more Will and Garet to sate me.
Recommended to:
Anyone looking for an addictive urban fantasy. If you enjoy a less angsty vampire romance and a heap of quirky fey, you should enjoy this.