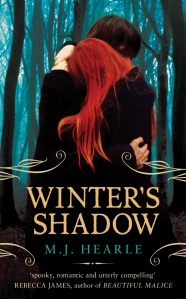 Title: Winter's Shadow (Winter's Shadow #1)
Author: M.J. Hearle
Published: June, 2011 by Pan Macmillan
Pages: 424
Rating:






Purchase: The Book Depository
Blake Duchamp…

He's all that Winter Adams can think of. Ever since their fateful meeting at Pilgrim's Lament. Ever since he looked at her with those emerald eyes. Ever since he saved her life.

But Blake isn't all that he seems. There is a strangeness about him, something dark and otherworldly. Something dangerous. In his attic is a secret he would kill to defend, but Winter seems to have a special ability to make him forget his duty. And he is her only protection against the gathering darkness. The only problem is, to protect Winter, Blake must risk exposing her to an even greater danger. Himself.
Final Thoughts:
Keep yourself chained to the bed, well maybe avoid the chains or you can't turn the pages. An addictively adorable romance, intertwined with a whole lot of creepy shadows and way too many cats.

Winter is the invisible girl, just skating through high school on the edge of her more boisterous best friend, Jasmine's popularity. I don't really see the popularity, but we don't spend much time in the school to notice. I think it's more that Jamine's just extraverted, where Winter is well… not. Her grades having slipped, Winter is forced onto the school paper as a photographer to make it up. Her assignment, which seems way to extreme for a school newspaper, is to photograph a dilapidated church, up in the middle of nowhere. This is where she spies him. Blake. A guy slightly older than her, brimming with perfection.
With her parents recently deceased, Winter's overprotective, older sister, Lucy, is left looking after her. An unwilling parent, Lucy, provides the appropriately lacklustre meals and an adequate amount of cat extermination. Okay, she's not an evil cat-hater, you'd be grabbing the hose too if you were in her position. As Blake's presence starts interweaving into Winter's life, Lucy disapproves, but Winter sees no deterrent. She wants to be closer to him, the only problem is, she's not so sure he wants the same thing. One minute she thinks he's getting closer, the next he's pulling away.
After having my emotions utterly obliterated yesterday by Sarah Rees Brennan in The Demon's Surrender, coming into this, my hopes were high. While maybe not on the same magnitude as Sarah's brilliance, Winter's Shadow still managed to keep me enthralled. Instead of returning to my regular life, I ignored my family and kept reading late into the night until I got to the end. I love getting caught up in a good paranormal romance, and the fact that it's by a male Australian author, makes it that much more exciting knowing a fellow Aussie has managed to crack into a market so heavily populated by female authors.
Something that did annoy me though, was the short length of the chapters. In just over 400 pages, I think there were about sixty-five chapters. It's nothing to do with the writing, but I just thought I'd mention it. Winter, as a character was fairly strong, with a clear voice. I found her POV easy to get absorbed in. She still had her weaknesses, but so do real people. She only had a couple instances of stupidity, brought on by curiosity and a clowder (the book will explain). The plot is refreshingly unique, avoiding the usual paranormal trappings of vampires/shifters/angels etc. While I did predict one of the characters, I was glad the majority of the twists still managed to trip me up.
I enjoyed the way the romantic struggles played out, rather than diving straight into insta-luv. Blake was a swoon worthy male lead, while also managing to avoid the ego-trip category. He's got a sketchy past, and a bit of a chip on his shoulder, which makes him that much more loveable. The romance is sweet and addictive. If there wasn't a second book in the works… well there is, so M.J. can rest assured, I won't be banging down his door. I'm currently glaring at the final page, wishing it was next year already.
Recommended to:
If you liked Hush, Hush, you should definitely check this one out. Plenty of high school romance and a paranormal plot to keep you guessing.