Teaser Tuesdays is a weekly bookish meme, hosted by MizB of Should Be Reading. Anyone can play along! Just do the following: Grab your current read and share two (2) "teaser" sentences from somewhere on that page.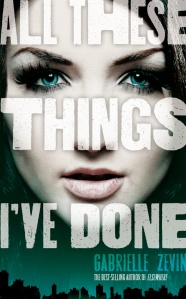 I'm really getting into this one. I love that chocolate is against the law and that people need to hide their stashes in safes. But really it's the characters that I'm enjoying so much. Can't wait to keep going with this, I should have it finished and reviewed in the next day or so.
"What did you do wrong?"
"Multiple choice," he said. "A. A few choice comments I made in Theology. B. Headmaster wants to have a chat with the new kid about wearing hats in school. C. My schedule. I'm just too darn smart for my classes. D. My eyewitness account of the girl who poured lasagna over her boyfriend's head. E. Headmaster's leaving her husband and wants to run away with me. F. None of the above. G. All of the above."

– All These Things I've Done by Gabrielle Zevin, page 21.
Published in August, 2011 by Pan Macmillan.