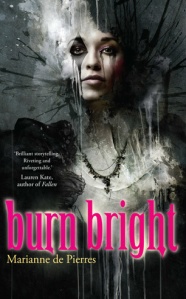 Title: Burn Bright (Night Creatures #1)
Author: Marianne de Pierres
Published: March, 2011 by Random House AU
Pages: 316
Rating:






Purchase: The Book Depository
Retra doesn't want to go to Ixion, the island of ever-night, ever-youth and never-sleep. Retra is a Seal – sealed minds, sealed community. She doesn't crave parties and pleasure, experience and freedom. But her brother Joel left for Ixion two years ago, and Retra is determined to find him.

Braving the intense pain of her obedience strip to escape the only home she's ever known, Retra stows away on the barge that will take her to her brother. When she can't find Joel, Retra finds herself drawn deeper into the intoxicating world of Ixion. Come to me, whispers a voice in her head. Who are the Ripers, the mysterious guardians of Ixion? What are the Night Creatures Retra can see in the shadows? And what happens to those who grow too old for Ixion? Retra will find that Ixion has its pleasures, but its secrets are deadly.
Final Thoughts:
I did not expect to love this book as much as I did. From someone who usually eats up the paranormal romances, I found the lacking romantic front slightly refreshing. Sure Burn Bright is a culture shock at first, but it's a good one. The first quarter of the book had me struggling to take everything in. There were strange names, language barriers and differing beliefs as well as flying boats and pirates. Yes, I immediately knew Burn Bright was different. No snuggly werewolves or mopey vampires here. But once I got over the initial bump and settled into the magic of Ixion, I couldn't put this baby down.

The world building is so in-depth. You can clearly see how much work has gone into creating this. Ixion is like an amusement park when the rides never stop, forever night time and forever partying. The imagery is very distinct as the characters parade between the bevy of nightclubs, churches for sleeping in and hidden gang meetings via a system of cable kars. I felt trapped alongside them as they dealt with inner workings of this strange world, trying to find a way to fit in, make friends and survive in general.
Retra was the ultimate outsider, with her sheltered upbringing never allowing her any chance to grow as a person, to develop any sense of where her allegiances should lie other than with family. I enjoyed living through her terrors, watching her world be torn from left, right and center. Her emotions feel real as she struggles to conform to something she knows is not her. Retra's same disassociation also makes her the perfect go between in a world of rivalling politics and power seeking insurgences going on behind the scenes.
The lack of romance did throw me, although like I've said, that can be a good thing. There is so much going on that an angst filled struggle for love probably wouldn't have worked, or even felt out of character for the person that Retra was. There are slight hintings at possible romances to come, although we'll have to wait and see. The mysteries of Ixion and a lot of political agendas litter the forefront, bringing with them plenty of action. I'm torn over which side of the cause to fall on, there seems to be lots of different sides to this story. The pacing was fast, never sagging as plot just kept on moving straight to the end. This is definitely not a book that you can pick up and only read one chapter.
I like the directions things are headed in. The night creatures certainly have the creepy vibe going for them, but so does everything about Burn Bright and that's why I enjoyed it so thoroughly. So much happened, exciting me, enlightening me and making me laugh. I loved the comeuppance of one character in particular. The friendships that Retra formed throughout her time in Ixion gave the book real flavour. Retra proves her strength, along with a lot of the females in this book. Her struggles to help those she cared about meant more when they were for those that I as the reader came to care about to.
Recommended to:
Those seeking an exciting world to escape into, strong females and mountains of mystery for the plot to unravel.