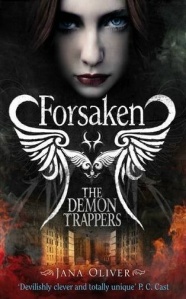 Title: Forsaken (The Demon Trappers #1)
Author: Jana Oliver
Published: February, 2011 by Pan Macmillan
Pages: 422
Rating:






Purchase: The Book Depository
Riley has always wanted to be a Demon Trapper like her father, and she's already following in his footsteps as one of the best. But it's tough being the only girl in an all-guy world, especially when three of those guys start making her life more complicated:

Simon, the angelic apprentice who has heaven on his side; Beck, the tough trapper who thinks he's God's gift, and Ori, the strikingly sexy stranger who keeps turning up to save her life.

One thing's for sure – if she doesn't keep her wits about her there'll be hell to pay…
Final Thoughts:
Demon hunting in a slightly dystopian world. Took a while to connect with, but stick with it as Forsaken is full of personal struggles, financial struggles and power struggles. There are many potential romances circling the main character which leave you wondering who Riley's going to end up with, if she'll make it as a trapper in an all-guys world and if she's going to be able to save that world from the demonic invasion.

Forsaken is a paranormal with a dystopian backdrop. Less than ten years in the future, fuel prices have skyrocketed and metal has become extremely valuable. Hence why energy drinks now come in thin plastic bottles. The government is struggling to keep itself afloat, charging taxes for anything and everything. Schools have closed down, with teachers left operating small classes out of closed down grocery stores and Starbucks. It mentions this nowhere on the cover, at least not on the copy I have. Instead the blurb focuses on informing us of the love square that Riley seems to be involved in.
I found the world building very interesting, even though it doesn't take up a majority of the plot time. Being so close to our own timeline, it's easy to imagine this sort of thing happening. Where it ventures from the possible to the paranormal is in the advent of demons. Not the sexy, I-want-to-jump-into-bed-with-you type of demon, Oliver's demons range from the tiny pests to the scary, multi-coloured with claws sort. I enjoyed having a story where demons are public knowledge, where people have to hire a special group of others to get rid of them. It gives a different take, rather than the hidden band of warriors that most demon hunter books have.
The trappers have always been an all-male group, which leads into Riley's story as the first female among them. She's a tough character, who's had an even tougher life having lost her mother to cancer and left with over 50K of medical bills as a reminder. Personally I found Riley hard to connect with for some reason. She irritated me with her constant misinterpretations of Beck. He wasn't particularly blameless either, but I did find him more likeable. Being five years older, and a war veteran, he had more maturity at 22 years of age. As the book switches between both of the perspectives, we get to see the inner workings of each and how a lot of things could be solved if only they opened up some clear lines of communication.
I didn't think the school aspect was necessary with all that was going on throughout the book. It served more as a way to show that Riley was still a teenager than to advance the plot. The real character development came through her time with the other trappers. As I've already mentioned, there were lots of potential love interests for this girl. She seemed to find a spark with almost every guy she came across. It verged on insta-luv, but I think it just avoided it. Riley mentions herself how fast she thinks her relationship is moving, which in my opinion saves it a little.
There were plot points brought in that I felt didn't take off properly, but as it's the first book in the series I do hold hope that Oliver will come back to them. While the book was never slow, in fact there always seemed to be some sort of action happening, it wasn't until the second half that I really felt invested in the plot. The end had me racing toward it, renewing my expectations for things to come. The tension is building, with what I hope to be an exciting sequel.
Recommended to:
Those after a change to the regular demon hunting adventure. A female and her struggles to prove herself belonging in a predominantly male world.