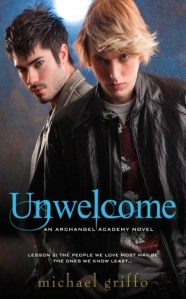 Title: Unwelcome (Archangel Academy #2)
Author: Michael Griffo
Published: September, 2011 by K Teen (Kensington)
Thanks: Kensington
Pages: 392
Rating:






Purchase: The Book Depository
Archangel Academy is more than a school to Michael Howard. Within its majestic buildings and serene English grounds, he's found friends, new love, and a place that feels more like home than Nebraska ever did. But the most important gift of Archangel Academy is immortality. . .

Life as a just-made vampire is challenging for Michael, even with Ronan, an experienced vamp, to guide him. Michael's abilities are still raw and unpredictable. To add to the turmoil, the ancient feud between rival vampire species is sending ripples of discord through the school. And beneath the new headmaster's charismatic front lies a powerful and very personal agenda.

Yet the mysteries lurking around the Academy pale in comparison to the secrets emerging from Michael's past. And choosing the wrong person to trust—or to love—could lead to an eternity of regret. . .
Final Thoughts:
Unwelcome is a wild ride of romance, lust, family politics and a hell of a lot of sexy vampires. With so many plots winding their way around our boys, Archangel Academy has never been more hectically intriguing. It's hard to know if there's a betrayal lurking around the corner that you just can't stop reading.

Like Unnatural, there are so many POV's that continue switching back and forth between paragraphs. It's the only book series I've seen do this so often that it does take a bit of getting used to. It was probably my one pet peeve, but it's not that difficult to follow. Michael and Ronan still center the book, but the other characters are very distinctive in their own rights. I'm not sure how the author managed to keep track of everyone's personalities when writing this but it is interesting to read how each person interprets different situations nonetheless.
While the first book did take a while to get into things, here we're thrown straight into Ronan and Michael's lives together. Both water vamps now, a special breed, much more humane than their regular counterparts, Michael is adjusting to his new life, both supernaturally and as an openly gay teenager. They're very much in love, with plenty of flirting, love declarations and both cheeky and tender situations. I really enjoyed all the aspects of the romance, even the not so perfect moments, which gave the paranormal aspects of their lives some realism to fall back on.
With Ronan as the older vampirically, he's always acting as the protector in their relationship. Keeping too many secrets with the intention of keeping Michael safe seems to be a character flaw of his. He's always holding things in, and it annoyed me to no end. I prefer when characters say what they're thinking, but then of course where would the angst be in that. Ronan's not just a part-time liar though. He's also very good at peacekeeping, whether with his boyfriend, his outsider brother or his eccentric mother, Edwige. Ronan comes across a lot older than his years, making the stubbled cover model that portrays him just a bit more believable.
I love whenever I come across Edwige's scenes. She was definitely not built for motherhood. Not that she holds any ultimate malice towards her children, just mild contempt. She just doesn't embrace the loving finesse needed to deal with them. Reading her can be quite the task. She has so much going on, plotting and scheming, looking for love, looking for beauty, dealing with remnants of her past and trying to half pull off a dinner party for a bunch of people who would rather be drinking blood than trying the dip.
I enjoyed delving deeper into the history of our characters. It linked together with Unnatural in a way that made sense of things, while still leaving more to be discovered. With all of the different threads running together at once like I mentioned earlier, it's fun when things finally click and you have the 'that's why' moment. The series is forever building, raising the stakes in the interspecies war. The vampires, not the water vamps, are getting even more cunning in their attack. With Brania and Nakano as well as some new vampires lurking, Archangel Academy is once again the center point for secrets, betrayals, lots of blood loss and fog ridden midnight rendezvouses. The lush British boarding school is the epitome of creepiness, but in a weird sense, I wouldn't mind going there myself. Great friends like Fritz and Phaedra, an enigmatic, but scheming Principal and a live in boyfriend dousing Michael with adorable British idioms made Unwelcome a bloody mouth-watering sequel.
Recommended to:
Those looking for lots of romance and plotting, as well as a different take on the regular vampire. And if you'd like a teaser of Ronan in the shower, click here.