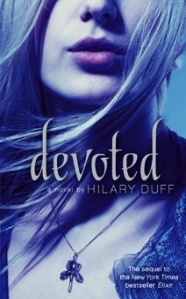 Title: Devoted (Elixir #2)
Author: Hilary Duff
Published: September, 2011 by Simon & Schuster
Thanks: Simon & Schuster, AU
Pages: 350
Rating:






Purchase: The Book Depository
Since Sage was kidnapped, Clea has no way of knowing if he is alive or dead. And even though she has only just discovered they were soulmates, she feels like a part of her is lost forever. What's worse, she can't even turn to her best friend Ben—because every time she looks at him, all she sees is his betrayal.

But waiting for something to happen is not an option, so Clea is ready for action. Suffering through dreams of seeing Sage with another woman, she makes an uneasy alliance with Sage's enemies and sets out to be reunited with Sage…in this life or the next.
Final Thoughts:
I probably could have written five different reviews if I'd chosen to write it while I was still reading this. Devoted had me intrigued, impressed, shocked, frustrated, and downright ready to throw the book away. Not necessarily in that order. A lot of new ground is covered in its second outing. The feel of the first book is still there, but we're left with an air of tension throughout the majority of this one. While Devoted does focus predominantly on Clea and Sage, and their struggles, I found the ancillary characters actually held a lot more depth.

Amelia, an immortal seven year old, takes on the role of second POV throughout the book. I found her scenes more enjoyable to read. There was definitely an interesting quality about her family that helped make the story something more than just a search for a soul mate. I loved all of the new insight she brings to the history of the Elixir, and its capabilities. This whole new subplot came out of nowhere, and I loved it. The power struggles that exist between this girl and her family bring tension and have you rooting for her moreso than you do, Clea.
Another change that pleased me was Ben. Originally playing the lovesick puppy, lapping on the outside of the love triangle, this time he's finally grown a backbone and showing Clea up for the incredibly selfish person that she is. Of course, he also happens to have suddenly gotten buff, something Clea is quite noticing of. With Sage gone and Ben so distant, Clea's life is in disarray. No boyfriend, no friend who's a boy either. I did feel sorry for her, but her actions continually prove me wrong, making me wish they'd both just leave her sad and alone.
Rayna's back and at her old antics again. She annoyed me in the first book, but her inane attempts at getting cute guys to fall for her actually broke up some of Clea's whininess enough for me to enjoy her. For one, Rayna seems to have toned herself down a little, attempting something resembling a real relationship. Sure she still pushes for attention, but it's bearable. Plus she seems to be the only person who can see things objectively.
With Sage gone, the new dream-state tool used to incorporate him into it was part of what intrigued me about this book. Elixir had the photographs, but this took things further. I like that there's a lot more paranormal used this time around. In terms of plot, I think it really improved. Characterization, not so much. If Clea had a lobotomy, I'd probably be happy. Okay, enough hating on Clea. I think I've already gotten that point across.
The writing is very descriptive, painting vivid pictures of different locations. There's even a stop off at Wal-Mart, involving smiley badged greeters and passive aggressive staff attempting to hurry them out of the store before closing. Moments like this made me enjoy what I was reading. There are definitely fun interactions and laugh out loud lines. At times I did actually like Clea, although maybe that had more to do with Ben than it did her. The time spent delving into the Cursed Vengeance syndicate was probably another one of the better parts. It helped provide a new light on an aspect that had previously very little insight other than the one-sided description in Elixir.
I also need to stress that I found quite a bit of coarse language in Devoted. The f-bomb was frequently dropped by several characters. It's not that big of an issue personally, but it occurred enough that I thought I'd point it out. Lastly, I'd like the mentioned how shocked I was left upon finishing this. HUGE twist abound. Take that how you will. If you can put up with Clea's whininess, it'll definitely be worth it in the end.
Recommended to:
Fans of Hush, Hush or Fallen would probably find similarities between Nora, Luce and Clea. Like Fallen, this series plays heavily on concepts of reincarnation and soul mates.