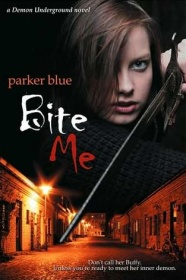 Title: Bite Me (Demon Underground #1)
Author: Parker Blue
Published: September, 2008 by Bell Bridge Books
Thanks: Bell Bridge Books via NetGalley
Pages: 229
Rating:






Purchase: The Book Depository
Life after high school is tough enough without having to go 15 rounds with your inner demon. Val Shapiro is just your ordinary, part-demon, teenaged vampire hunter with a Texas drawl. And a pet hellhound named Fang. Soon enough she finds herself deep in the underbelly of the city, discovering the secrets of the Demon Underground and fighting to save those she loves. Whether they love her back or not.
Final Thoughts:
Brimming with attitude, and plenty of skill to back it up, Val was a kick-ass heroine. She's got more to her than just fighting vampires though, as she deals with her unsupportive family and the lust demon clawing at her insides to get out. While the vampires played a big part what I really loved was her dog—and I'm not a dog person. Part hellhound and all sarcasm, Fang stole the book for me, bringing a grin to my face just about every time he spoke.

Moving away from the trappings of high school, Val's just turned eighteen and venturing out, building a life of her own. I think this is an area we need more of rather than going straight from high school drama to the grind of the adult world. While this one doesn't focus too heavily on this aspect once things get going, it does show some of the struggles at setting herself up. The logistics behind Val's job probably could have used some more explaining though. It did seem like she just jumped right in.
The vampires here and the attitudes towards them are more like those of the days of old. No salivating over swoon-worthy immortal guys, Val shoves her stakes in without a second thought and moves on to the next. I really liked incorporating the law into the vampire hunting. It makes sense that the police aren't completely clueless to bodies turning up with puncture wounds in their necks. Pairing Val, a part-demon, up to work side by side with a monster-hating slightly older guy also provided for lots of fun, conflicting conversations as the duo were forced into spending almost every waking moment together.
Val's fast tongue and outwardly sure-of-herself confidence made her an enjoyable character, but adding in her inner wariness and naivety gave her depth. There's the ever-present battle to keep a lock on her lust demon waiting to feed on the men around her and the desire to keep her demon-self hidden from the few new friends in her life. This all adds to the tension. The slow building of the relationships through time spent together and actions proved more enjoyable than if the characters had fallen head over heels in love from the get go.
The friendship between Fang and Val was a bit quick though. But I could forgive that, she was in desperate need of a friend, and who better than a psychically linked smart-assed dog. While I've read a lot of shifter novels, I've never came across one where an actual pet could talk – so much fun. For some reason I seem to keep coming across unloving, distant parents in paranormals, and this one is no different. At least here they're alive though. It seems to be used as a way of separating the characters so they have a reason to seek out new people in their lives.
The mystery behind the vampires in the city isn't an overly complicated one in hindsight, but it does hold up well when added in with the characters own personal problems and growth. I enjoyed the overall ride and am interested in seeing where it takes me next. I'm hoping for more on the romance front and greater insight into the ethics behind the vampires' motives.
Recommended to:
Those after a girl with attitude, vampires meeting the sharp end of a stake and sarcasm!