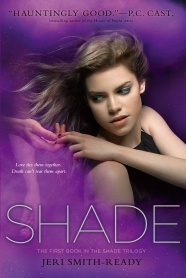 Title: Shade (Shade #1)
Author: Jeri Smith-Ready
Published: May, 2010 by Simon & Schuster
Pages: 320
Rating:






Purchase: The Book Depository
Best. Birthday. Ever. At least, it was supposed to be. With Logan's band playing a critical gig and Aura's plans for an intimate after-party, Aura knows it will be the most memorable night of her boyfriend's life. She never thought it would be his last.

Logan's sudden death leaves Aura devastated. He's gone.
Well, sort of.

Like everyone born after the Shift, Aura can see and hear ghosts. This mysterious ability has always been annoying, and Aura had wanted nothing more than to figure out why the Shift happened so she can undo it. But not with Logan's violet-hued spirit still hanging around. Because dead Logan is almost as real as ever. Almost.

It doesn't help that Aura's new friend Zachary is so understanding–and so very alive. His support means more to Aura than she cares to admit. As Aura's relationships with the dead and the living grow ever complicated, so do her feelings for Logan and Zachary. Each holds a piece of Aura's heart…and clues to the secret of the Shift.
Final Thoughts:
Ghosts visible to everyone sixteen and under, I really loved this idea. It did take me a while to get into it, though. I still enjoyed the mix of characters so it wasn't boring per se, but nothing substantial seemed to be happening until the second half. I'd seen people raving over this for a while so I'd grabbed myself a copy without reading the blurb, but that didn't save me. A friend of mine let me in on the world breaker after she read it. It's probably one of the better ones I've seen, killing off the love interest, especially so early in the book, really sucked me in.

The concept was a lot of fun to explore. With ghosts being public knowledge it removes the 'am I crazy?' moment that protagonists in paranormals usually have to go through. While having to keep the secret can add an air of tension to the characters, this methods frees them up to deal with the deeper issues plaguing them. Like dead boyfriends and aunts who don't approve of them. In terms of the ghost lore, there's a lot of thought put into the details which present the characters with obstacles and as well as adding more intrigue.
Aura's own path involves a lot of soul searching. She's put through a lot and deals with it well. Her decision making processes were fairly reasonable for the most part. I like that she asks questions, ones people want to know. I found myself having a couple 'aha' moments as things fell into place which made me smile. Aura's relationship with her Aunt Gina felt real with a nice balance between lax parenting and annoyingly overbearing. It helps separate some of the tension from the mystery that surrounds Aura.
I really liked the concepts introduced such as BlackBoxing (making ghost-free zones) and Shading (ghosts turning evil), as well as the DMPs (ghost police) but I felt like they didn't get enough attention. There's a lot left unresolved, which can be good, except that there was probably a hundred or so pages where things could have been happening. Instead those pages were filled with nothing but longing, secret handshakes, almost-kisses and a lot of stargazing that didn't seem to go anywhere. I know it was developing Aura's relationships with the two boys, but the pacing felt slow in comparison to the second half.
As for Logan, dying on your birthday has got to suck, especially before you got to have sex with your extremely long term girlfriend. Lead singer of an about-to-be-signed indie band, he had the attention-hungry ego, yet managed to be the surprisingly down-to-earth boyfriend to Aura. I found myself liking him a lot more than the other love interest. Logan way of dealing with his own death was handled well. Adding in the conversations between Aura and Logan's younger brother was a good way of showing the difference between Aura-Logan and Family-Logan.
And Zachary, the Scottish exchange student. Everyone seems to love him, but I wasn't one of them. Sure he was sweet and caring and all that, plus he said a lot of adorable things, but I just felt like Aura and Logan's connection was too strong. A ghost boyfriend is still a boyfriend. But I can say, for a love triangle, it was surprisingly enjoyable. Once the revelations started flying about, things really picked up for me. Zachary's plot, at least once they got past all of the night-time farm visits, almost had me started to reconsider which team I was on. The last hundred and fifty pages pushed the characters and got me excited for what was to come.
Recommended to:
Those after ghosts, a love triangle and some mystery in the background.