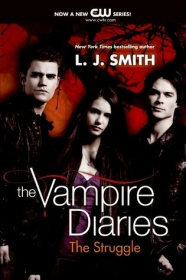 Title: The Struggle (The Vampire Diaries #2)
Author: L.J. Smith
Published: October, 1991 by HarperCollins
Pages: 236
Rating:






Purchase: The Book Depository
Torn between two vampire brothers

Damon: determined to make Elena his, he'd kill his own brother to possess her.

Stefan: desperate for the power to destroy Damon, and protect Elena, he gives in to his thirst for human blood.

Elena: the girl who can have anyone finds herself in the middle of a love triangle . . . one that might turn deadly.
Final Thoughts:
A fun escape, although having turned twenty last month, The Struggle is showing signs of its age. The names, the clothing, the speech patterns jarred me at times, but taking it for what it was, I really enjoyed it. Having come into the books after watching the TV series, the differences are obvious, but the heart of it still lies in the love triangle. This Elena is a little frustrating at times, though. I didn't exactly agree with all of her decision making. The plot may not have been as complicated if she hadn't been so stubborn. But even with the hurdles, these books have a way of packing a major punch at the end. It's hard to just read one at a time.

The melodramatic Elena took a bit to get used to, but she's not horrible. She just has a tendency to hold the world on her shoulders, sharing her inner feelings only with her diary. Personally I don't get the diary writing thing, especially after having her first one stolen. But it does give a first person look into what is an otherwise third person narrative. Going from being the most popular girl in school in book one to the most shunned, Elena takes it quite well, too wrapped up in her Stefan obsession to worry about what people think of her.
I have to say book Damon is a lot of fun – very wicked. I feel like they toned him down for the TV series. He's got the hot evil thing working for him. I love that he's Mr Perfect to everyone while toying with Elena at the same time. He's always popping up everywhere trying to win her over while simultaneously threatening to kill her loved ones. The lore is slightly different with the inclusion of crow shifting and a few other things. I like that the TV show wasn't a clone, it keeps things interesting.
Playing to the teen drama genre, there's a lot of bitchiness between Elena and her nemesis, Caroline—some subtle, some not so much. The best friends, Bonnie and Meredith, play off each other, trying to keep Elena's personal life from spiralling out of control. I'd like to see more of these two and their lives in the future books. Matt's scenes with Stefan were fun—the ex and the current boyfriend, how could they not be. He's a lot more likable than TV Matt. He has a bit of an attitude and a personality that seemed to have evaded his counterpart.
I found Alaric a sightly creepy in his role as teacher, but he was too underdeveloped to put together any real opinion of him yet. I'm guessing he'll have more importance later on. I loved that Elena's aunt was pushing Damon on her as a possible good influence, seeing Stefan as the villain. I'm not sure Elena was enthusiastic about it though—oh well, it makes for fun reading. The overall plot was a little flimsy until around the final quarter. It's still enjoyable for the characters but I would have liked something a little more dangerous to occupy their time. Luckily, it looks like book three is set to deliver.
Recommended to:
Vampire romance fans. It's got all the teen angst, hot guys and head-over-heels romance that fans of the genre expect.