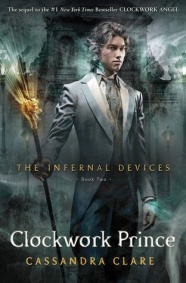 Title: Clockwork Prince (The Infernal Devices #2)
Author: Cassandra Clare
Published: December, 2011 by Margaret K. McElderry Books
Pages: 502
Rating:






Purchase: The Book Depository
In the magical underworld of Victorian London, Tessa Gray has at last found safety with the Shadowhunters. But that safety proves fleeting when rogue forces in the Clave plot to see her protector, Charlotte, replaced as head of the Institute. If Charlotte loses her position, Tessa will be out on the street and easy prey for the mysterious Magister, who wants to use Tessa's powers for his own dark ends.

Tessa finds her heart drawn more and more to Jem, though her longing for Will, despite his dark moods, continues to unsettle her. But something is changing in Will; the wall he has built around himself is crumbling. Could finding the Magister free Will from his secrets and give Tessa the answers about who she is and what she was born to do?

As their dangerous search for the Magister and the truth leads the friends into peril, Tessa learns that when love and lies are mixed, they can corrupt even the purest heart.
Final Thoughts:
I couldn't wait to start this one, having thoroughly enjoyed Clare's previous works, but after rushing into Clockwork Prince, I felt slightly let down. It took me four days to read, as I needed to take a break every hundred or so pages. It wasn't until around the sixty percent mark that I felt I couldn't put it down. I still enjoyed the book on the whole—both Will and Jem were amazing—but there were moments where I wanted something more exciting to occur, some greater danger. But if you're in it for the love triangle moreso than the Shadowhunter plot, you'll love it!

While the beginning was a little slow plot wise and really could have been condensed, it was easy to slip back into this world, to remember why I loved these characters so much. Tessa has a certain strength about her, willing to help her adopted family of Shadowhunters in any way that she can. She has her own problems too, stemming from her upbringing, her lack of identity and the confusion brought upon by the pursuits and dismissals of the incandescent boys she cohabits the Institute with.
Tessa controls the majority of the page time, but there are multiple other points of view threaded throughout the novel. I don't usually like when books have more than one or two points of view, but these diversions did add to the reading experience. They were incorporated sparingly and the switches weren't too confusing. The inclusion of the Will and Magnus POV's made the book that much more fun, and gave greater depth into what makes Will tick. It left the reader knowing more than the characters sometimes, which can be a good or a bad thing. I think it worked for the better, but that's just me.
The love triangle has been developed really well, making it so hard to pick between Jem and Will. Jem really put himself out there this time around, dripping in protective adorableness. Will, while still snarky, has started to unravel into a more palatable character. Even though as a reader it's easy to love him, brashness and all, the reactions from those he hurts are believable. As I've mentioned, seeing things from Will's perspective and uncovering the revelations surrounding him were a real highlight for me, only adding to my Team Will/Team Jem uncertainty.
There are certainly emotional points which brought the onset of tears to my eyes. I love when that happens—it means the book was worth reading—but the blurry vision, not so much. Things that occurred, including aspects involving the ancillary characters, really impressed me. While it was the characters and not the Magister plot that enthralled me, the second half did have start to build up towards something, but I was unfortunately let down by a disappointing ending. I do like the direction the next book seems to be going in, but I was expecting something extra to occur.
Recommended to:
Those after a love triangle that's hard to pick between, hints of steampunk and interwoven mysteries.