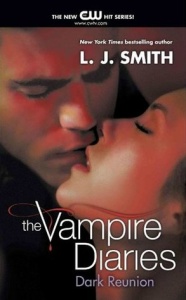 Title: Dark Reunion (The Vampire Diaries #4)
Author: L.J. Smith
Published: May, 1992 by HarperCollins
Pages: 274
Rating:






Purchase: The Book Depository
The Final Conflict… The Last Deadly Kiss

Elena: Now she rises from the dead to recreate the powerful vampire trio.

Stefan: Summoned by Elena, he keeps a promise to her and fights the most terrifying evil he's ever faced.

Damon: Joining the brother he once called an enemy, Damon battles this new horror with strength, cunning, and deadly charm.
Final Thoughts:
I'm surprised and impressed by how much L.J. puts her characters through. I can't say that things ever felt stable or boring. While a lot has changed since the previous book, it still holds the romantic vibe laced with an air of imminent doom. There's a lot of action this time around, originally being the final book in the series. Personally I liked book three better, but still enjoyed this one for all of its mystery, danger and emotional growth.
Just a warning, there are spoilers for the previous book ahead.

With Elena having died at the end of the The Fury, this book gains a new lead as Bonnie steps to the forefront. Bonnie has even inherited Elena's love of diary writing. It's a big shift after having Elena almost all throughout the first three books. Bonnie handles her position well though, keeping her friends in line, and making sure Stefan doesn't go off the reservation. While Elena may have been the center point, I liked seeing her loved ones dealing with her absence and moving on to deal with the greater problems at hand.
With a new protagonist, it also brought a new love triangle. I loved Matt in past couple books so I was thrilled that he got more page time, he's a really great guy that falls into the friendship zone far too often. Damon's the other guy in Bonnie's life, although there isn't really anything concrete between them. The romance plays a small part, more in a flirting capacity, due to the ever-present danger in Fell's Church. I think these guys need to take a vacation, let someone else deal with the evil for a while.
The evil behind everything ended up being who I thought it was, but that may have had more to do with being a fan of the TV series than being a mind-reader. It played out in a fashion that was both exciting and emotional. I really enjoyed the final chapters for the strength that the characters showed. The overall ending felt a little contrived to me, but in the grand scheme of things, I'm not sure what else could have happened there.
Caroline amused me with her antics. After three books of unrestrained bitchiness, the whole 'let's be friends again' routine was a little trite. Tyler has to be the biggest douche of the series. I love when these characters get their comeuppance, as I'm sure a lot of people do. It's funny to think he and Caroline ended up as a couple in the TV series. Damon really got the best development over the course of the series, changing from unabashedly evil to kind-of caring about whether others live or die.
Recommended to:
Those after teen girls and hot, brooding vampires working together to take down evil.