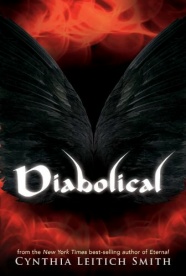 Title: Diabolical (Tantalize #4)
Author: Cynthia Leitich Smith
Published: January, 2012 by Candlewick Press
Thanks: Candlewick Press via NetGalley
Pages: 368
Rating:






Purchase: The Book Depository
Prepare for a hell of a ride as Cynthia Leitich Smith calls on characters from her previous novels – and conjures up new ones – for a climactic showdown.

When "slipped" angel Zachary and his werewolf pal, Kieren, arrive under suspicious circumstances to a mysterious New England boarding school, they quickly find themselves in a hellish lockdown with an intriguing assortment of secretive, hand-picked students. Plagued by demon dogs, hallucinatory wall décor, a sadistic instructor, and a legendary fire-breathing monster, will they somehow manage to escape? Or will the devil have his due? Best-selling author Cynthia Leitich Smith unites heroes from the previous three novels in the Tantalize Series – including Zachary's girl, Miranda, and Kieren's love, Quincie – along with a fascinating cast of all-new characters for a suspenseful, action-packed clash between the forces of heaven and hell.
Final Thoughts:
I've stuck with this series because I like to finish things once I start them, but I just don't think these books are for me. I enjoyed Blessed more than the first two, but something about Diabolical just didn't work for me. I'm not quite sure why the books in this series are alternating between present and past tense, but this one is written in present. There were also a lot of POV switches back and forth between three of the characters. Ditching the vampire plots for a demonic boarding school during this book did bring some interesting moments, but unfortunately, the romance took a back seat to the hellish game of survivor the characters were trapped in.

The first quarter of the book felt slow, using most of the page time going through a round-robin of POVs as each of them recounted what the characters were like, what they'd been up to in the previous three books, and commenting on how good looking both Zachary and Kieren apparently are. It's alright for those who haven't read the other instalments in a while, but having just read them recently, it just felt like wasted plot time. The only good part during the recaps was the introduction of Miranda's afterlife in the waiting area for Heaven—the ideas behind that are actually pretty cool.
Quincie, while she's still around, takes a backseat to the boys once the plot gets underway. The day I'd been awaiting finally came—we got more than a passing glance at Kieren. With his own POV, he was in considerably more scenes than the total of his appearances in the first three books. His and Zachary's friendship became the stable point of focus, as the two of them entered the creepy, secluded boarding school under false pretences. When it came to them being locked inside the school, I wasn't exactly sure how Joshua, the GA, could get in and out with the supposed hell-magic acting as a blocker…but I decided not to think about it. I also noticed a lot of characters were outed in Diabolical, which was cool. Not sure what suddenly brought that about, but I'd like to see more of it happening.
As for the Miranda plot, I thought it probably could have been left out and not have made that much of a difference the overall heart of the story. However, I did enjoy the chance it gave us to see her dealing with her past in the form of the victims she killed during her vampire life. The angel politics added a little bit of tension, but seeing from both sides took away some of the mystery, and with that, some of the tension—it's a catch-22.
Regardless, I was more interested in the crazy teacher from hell, tormenting her students with her one-liner response to just about everything. The school managed to keep the possibility of death ever-present, the students waiting to be picked off. I would have liked if the characters had been given more time to really develop, as they felt disconnected in way. Whenever any of the characters were harmed, for me, there wasn't really any feeling of loss. The only one I actually seemed to care about this time was Zachary. His plot actually got exciting as things progressed. I was looking forward to a big showdown on his part, but sadly, that seemed to deflate towards the end. It wasn't a bad ending, I enjoyed it, but I would have liked him to wield his holy sword and take down the bad guys, or something like that.
Recommended to:
Those interested in boarding school novels and angels.