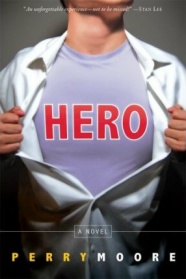 Title: Hero
Author: Perry Moore
Published: August, 2007 by Disney-Hyperion
Pages: 428
Rating:






Purchase: The Book Depository
The last thing in the world Thom Creed wants is to add to his dad, Hal's, pain, so he keeps secrets. Like that he has special powers. And that he's been asked to join the League–the very organization of superheroes that spurned his father. The most painful secret of all is one Thom can barely face himself: he's gay.

But becoming a member of the League opens up a new world for Thom. There, he connects with a misfit group of aspiring heroes, including Scarlett, who can control fire but not her anger; Typhoid Larry, who can make anyone sick with his touch; and Ruth, a wise old broad who can see the future. Like Thom, these heroes have things to hide, but they will have to learn to trust one another when they uncover a deadly conspiracy within the League.

To survive, Thom will face challenges he never imagine. To find happiness, he'll have to come to terms with his father's past and discover the kind of her he really wants to be.
Final Thoughts:
Hero is a welcome alternative to the dark creatures inhabiting the YA landscape, and just a heap of fun. While I did find some similarities between it and Smallville, in terms of the books I've come across so far, it was incredibly unique. Thom's voice stuck out with an addictive realism amongst such a fantastical world, shown through his insecurities as well as his courage and his heart. Taking many turns, the book explores the importance of family, friends, teamwork and trust. It's not all roses, with many moments of pain as the characters come to grips with the harshness of life. But with all of that, it still managed to bring about an uplifting message somewhere in between.

Going through many stages the book brought about many revelations in Thom's life. While the fate of the world was one of many issues, it dealt with things that were closer to home, such as Thom's struggles to keep his sexuality hidden from his single-parent father. There was a lot of over-thinking that went on inside Thom as he went to extreme lengths in order to keep from disappointing his father. But the joy of this story came as Thom started to realise he wasn't the only one holding things back, that everyone had their own problems, their own pasts that they wanted to hide, or wanted to share, but feared the results.
There were some great moments, including Thom's fantasies over a certain buff superhero, but the more enjoyable aspects were the simple interactions with a guy his own age. Not knowing whether the other guy was gay or not created for a stilted relationship, but one that was fun to watch nonetheless. The writing managed to take on the most basic of situations and make them seem riveting. I seriously found it difficult to put down. I would have stayed up all night if I hadn't already read two books on the same day. But as soon as I woke up the next morning, I was back to it until I finished the final page.
The introduction to a world where superheroes flying through the sky, taking down bad guys was an everyday occurrence was a really interesting concept to read, but I'm sure comic book fans are already well entrenched with the prospect. I wasn't quite sure where things were headed as the plot kept throwing me for loops. It started out headed in a similar direction to some of the other 'gifted' boarding school novels I've read, but then it completely tore up the map. It really pushed heavy on the struggles of finding a balance within a team, and at learning to look beyond people's facades.
The bourgeoning friendships became one of my favourite aspects the deeper the book progressed. I enjoyed seeing the different sides to people as well as the revelations that started to make past behaviours make sense. One of the twists was obvious to me, but it worked well when it was revealed and there were still others that caught me off guard. Hero was emotional, with lots of growth in both Thom and those around him. It didn't manage to make me cry, so unfortunately it didn't meet my 5-Star criterion, but it was definitely a solid 4-Star for me.
Recommended to:
Those after a fun coming of age story mixed in with a heap of superhero action.