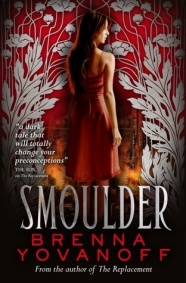 Title: Smoulder
Author: Brenna Yovanoff
Published: December, 2011 by Simon & Schuster
Thanks: Simon & Schuster, AU
Pages: 363
Rating:






Purchase: The Book Depository
First published in the USA as "The Space Between" in 2011 by Razorbill, an imprint of the Penguin Group(USA)Inc.

Daphne is the half-demon, half-fallen angel daughter of Lucifer and Lilith. Life for her is an endless expanse of time – until her brother Obie is kidnapped, and Daphne realises she may be partially responsible. Determined to find him, Daphne travels from her home in Pandemonium to the vast streets of Earth, where everything is colder and more terrifying.

With the help of the human boy she believes was the last person to see her brother alive, Daphne glimpses into his dreams, discovering clues to Obie's whereabouts. As she delves deeper into her demonic powers, she must navigete the jealousies and alliances of the violent archangels who stand in her way. But she also discovers, unexpectedly, what it means to love and be human in a world where human is the hardest thing to be…
Final Thoughts:
With a slow start, I spent a few days picking up and putting this book back down. It wasn't until I crossed the 90 page mark that I got hooked by these characters. I spent the rest of the day in a non-stop reading frenzy. Daphne, the daughter of Lilith and Lucifer, was a lot of fun to watch as she experienced Earth for the first time. And Truman, he was just so broken by what life had thrown at him that he'd given up on caring. The two were quite different, but just seemed to work, playing off each other's inadequacies. I wouldn't have cared if there wasn't a plot, these two were enjoyable enough just following them around.

The writing was very descriptive, bringing life to Hell where Daphne grew up. It's one where every detail seems to be important, yet doesn't overtake the progression of the dialogue. I found the switching writing styles weird, though. Whenever a chapter followed Daphne's point of view, it would be told in first person present tense, yet Truman's were in third person past tense. The only reason I can come up with is that we're supposed to see through Daphne's eyes as she'd first experiencing the world. Still, I would have preferred it all in past tense. But even so, I really liked that we got to know what both characters were feeling, and the POVs generally didn't overlap as to slow things down with repetition.
Daphne was almost childlike in her innocence towards the world, reminding me of a female version of Kale from Jus Accardo's Touch. The things she would do ranged from reckless, to just plain whacky. I loved it. Her oddities did make her a better character, though. Plus she was pretty awesome in her own right, with demonic powers that allowed her to burn things with her touch. Truman, as I've said, was incredibly broken. He could be abrasive one moment, then very caring the next. It was both sad and intriguing—definitely one of the better male love interests I've come across. I really liked the gradual development between him and Daphne, going from being dragged around by her to actually wanting to spend time with her.
The plot, as the blurb says, involves Daphne searching for her missing brother, Obie—the son of Lilith and Adam. It involves train travel, casinos, hotels, night clubs, back alleys and more as Daphne and Truman track down lots of clues. It was kind of like a road trip book, but with magically-powered transportation. But looking back, there was actually very little paranormal beyond the magic doors and talking mirrors and Daphne's occasional firepower. The greater focus was on the dynamic between Daphne and Truman. It was a subtle, but very emotional, romance—the two growing closer to one another, finding out how much the other makes them a better person. It played out in a way that I found a little confusing, but I enjoyed the book on a whole, nonetheless.
Recommended to:
Those after a gradual, but addictive romance with a demonic manhunt plot.