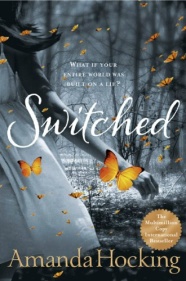 Title: Switched (Trylle Trilogy #1)
Author: Amanda Hocking
Published: January, 2012 by Tor
Thanks: Pan Macmillan, AU
Pages: 328
Rating:






Purchase: The Book Depository
Wendy Everly knew she was different the day her mother tried to kill her and accused her of having been switched at birth. Although certain she's not the monster her mother claimed she is – she does feel that she doesn't quite fit in . . .

She's bored and frustrated by her small town life – and then there's the secret that she can't tell anyone. Her mysterious ability – she can influence people's decisions, without knowing how, or why . . .

When the intense and darkly handsome newcomer Finn suddenly turns up at her bedroom window one night – her world is turned upside down. He holds the key to her past, the answers to her strange powers and is the doorway to a place she never imagined could exist: Fӧrening, the home of the Trylle.

Finally everything makes sense. Among the Trylle, Wendy is not just different, but special. But what marks her out as chosen for greatness in this world also places her in grave danger. With everything around her changing, Finn is the only person she can trust. But dark forces are conspiring – not only to separate them, but to see the downfall everything that Wendy cares about.

The fate of Fӧrening rests in Wendy's hands, and the decisions she and Finn make could change all their lives forever . . .
Final Thoughts:
I went into this without any expectations, and found myself surprised by how enjoyable the characters were. It's a paranormal, with trolls, known as Trylle, like you've never seen them before—but it didn't focus so much on the magic as it did on the prospects of being suddenly thrust into a world of royalty. Hocking's character, Wendy, even likens it to a case of Princess Diaries syndrome. Thinking back, not a lot actually happened throughout the book, but it always felt like Wendy was up to something…make sense? And the romance, it was about right for the situation, playing more on the romantic tension rather than shipping characters at the first possible opportunity. The push/pull nature of it all certainly kept me interested.

Wendy's a very down to Earth character, despite her tenuous upbringing. She's made out to be a delinquent—at least in the eyes of those around her—and a social leper. I had no idea how she managed to get out of bed of a morning with no friends to see at school and teachers always ready to assume the worst of her. Okay, she did get expelled for punching the Dean's daughter at her old school, but apparently the girl was a bitch that wouldn't stop bullying her. Not that violence is the answer, but unfortunately sometimes that's all that will get through to the bullies. I'm turning into a PSA, so I'll change topics.
The introduction of Wendy's family—made up of her Aunt Maggie and her older brother, Matt—succeeded in creating a friendly, yet overprotective dynamic. A wave of melancholy swept over me once Wendy left them in order to explore a new life in the Trylle kingdom. But on the flip side, I was more than happy to leave behind Wendy's certifiably crazy, murderous mother. Still, I found her character to be quite interesting in that I was able to hate her actions, but feel for her at the same time. Somehow knowing that your baby isn't yours, that the one you delivered was switched for another would drive anyone crazy.
Finn intrigued me with his mood swings, but he also managed to frustrate at times, too. In order to maintain the mystery, he would often leave out bits of information, giving half-answers, in order to keep his word that he would not lie to Wendy. There were moments when that little assurance proved to be an upside as well. Even though Finn is generally pushing Wendy away, there's a growing closeness between them exhibited through his actions. However, there are other guys on the horizon, including both Rhys, and Tove—love the name—both with their own upsides and differing consequences.
The Trylle kingdom of Fӧrening plays host to the greater part of the book. The princess-in-training routine included dinner parties, dancing and just about everything else in terms of deportment. I enjoyed all of this for the simple fact that Wendy generally sucked at everything, much to the displeasure of the hard-nosed Queen. Hanging out with the lower-classed people around her watching movies, sneaking off to do a little sightseeing with Finn and sticking it to the Queen made Switched a lot of fun. The powers that the Trylle possess were touched on as thoroughly as I would have liked, but perhaps that occurs within the next two books of the trilogy.
With this edition, it included a bonus short story at the back told from the perspective of one of the Vittra, a rival troll clan. It's set within the timeline of Switched, allowing the reader into the minds of the purported "bad guys" as they attempt to kidnap Wendy. I appreciated its inclusion as it personalised this group beyond the brute force image portrayed in the actual novel. It didn't exactly enlighten me as to their motives, but it does manage to show the vast difference between the lifestyles of the two factions. My only disappointment at finishing Switched is that I don't have the sequel, Torn, yet.
Recommended to:
Those who enjoy boarding school fiction may find similarities, although with the royalty aspect, it features both forbidden romance and warring kingdoms.