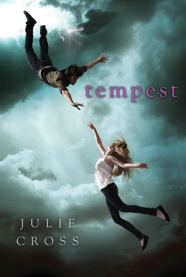 Title: Tempest (Tempest #1)
Author: Julie Cross
Published: January, 2012 by St. Martin's Griffin
Thanks: Macmillan via NetGalley
Pages: 352
Rating:






Purchase: The Book Depository
The year is 2009. Nineteen-year-old Jackson Meyer is a normal guy… he's in college, has a girlfriend… and he can travel back through time. But it's not like the movies – nothing changes in the present after his jumps, there's no space-time continuum issues or broken flux capacitors – it's just harmless fun.

That is… until the day strangers burst in on Jackson and his girlfriend, Holly, and during a struggle with Jackson, Holly is fatally shot. In his panic, Jackson jumps back two years to 2007, but this is not like his previous time jumps. Now he's stuck in 2007 and can't get back to the future.
Final Thoughts:
Seriously…I need the second book now! A year is just too far away. I'm so glad that I loved this book and that it wasn't just another pretty cover. It managed to bring tears to my eyes not once, but three times. Maybe it's just me, but when a book can do that to me, it immediately enters my favourites. And if a time travelling 19yo guy wasn't cool enough, the addition of interwoven conspiracies had me hooked. This is definitely a book to get guys into YA, although it's still very female friendly. Whereas some books tend to fall to one extreme, this one managed to balance a variety of genres. Easily shifting between action and romance, it incorporates issues such as sex, lies, friendship and family, all while creating an intricately mysterious paranormal world.

If you haven't already gathered, Jackson is our protagonist, bringing in a male perspective into a heavily female-centric YA landscape—that alone makes it stand out. It surprised me how well Cross got into his head. He was still very much a swoon-worthy book guy, slightly cocky, but all part of his charm. Seeing his internal struggles as he vied for the attention of the girl he—dare he think it—loved, made the romance that much more exciting. Their relationship ranges all over the spectrum including the awkwardness of infancy to the cute, to the deep need for each other. I love romance so I was more than happy for these interludes laced throughout the external tension.
The characters are in college, or at least their present-day selves are, so the distinct lack of a high school—refreshing as it is—is made up for by the part time job Jackson worms his way into. Surrounding himself with a bunch of teenage co-workers, we get the friendship/blossoming relationship fix. Holly for one, Adam for the other. Holly had an interesting development, her presence lightening the mood most of the time. I enjoyed the humorous quirks exhibited through the inclusion of her and Jackson's IM sessions. But I think I almost busted myself laughing over Jackson's underwear shopping—I can't explain…you have to read it. Adam—who I would have liked to see more of—was great in his role of the best friend/sidekick/confidant/hacker/…okay, I'll stop slashing.
I loved that this book was able to bring out emotion in me, that it made me care about the pain of the characters. Snippets into Jackson's life were spaced amongst the ongoing turmoil which furthered his character not only to the reader but to those around him. The family problems fit well into the story, expanding not only Jackson, but his creepy father and his dead twin sister. With the limitations introduced, it was bittersweet in a way—Jackson can travel back through time, but he can't change the past.
Cross's explanations for the time jumping are actually simple enough to understand, using analogies that gradually build up the reader's knowledge as the novel progresses. Having avoided the blurb, I had only the amazing cover-art to go on upon entering the book. It wasn't quite what I was expecting, in fact, I think I was imagining something along the lines of Lauren Kate's Passion. I'm actually glad it didn't go that route, instead, twisting the main character up in a world of lies and persuasion where it's hard to tell who the bad guys actually are. Each side have their motives, and each are equally valid—and Jackson is stuck in the middle of it.
While I managed to pick up on some of the hints before the twists unfolded, I still found myself surprised on more than one occasion. I like that this one keeps you theorising on what the hell is going on. There was one hint in particular that didn't have any resolution, but I'm hoping it comes to light in one of the future instalments. Regardless, this one reveals plenty of secrets, creates just as much confusion, claws at your emotions and packs in an explosive finish which leaves me reiterating: why is 2013 so far away?
Recommended to:
Those after a wide variety in their paranormal fiction. And if you need a reminder…it's time travel!
Click here for a 7min teaser of the Audiobook