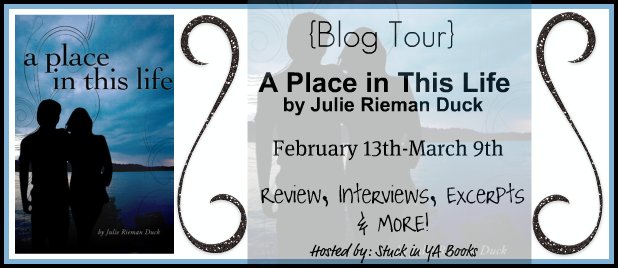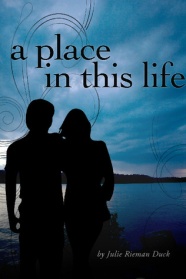 Title: A Place In This Life
Author: Julie Rieman Duck
Published: September, 2011 by Julie Rieman Duck
Pages: 254
Rating:






Purchase: Amazon // Smashwords
For Natalie Miller, it's just another family vacation. For someone else, it's the opportunity he's been waiting for.

With only a single peck from a guy named Frank, Natalie's anything but experienced with boys. But when Todd pops out of the water, says hi, and tells Natalie he has leukemia, all of that changes.

She's never had attention like this from a boy, let alone one who's a real charmer with sex on the brain and the experience to match. Drawn to Todd like a magnet, Natalie gives him her friendship, her love, and her body. Even when she's tempted by gorgeous, healthy schoolmate Alex, Natalie's desire to love and care for Todd pushes her to see how far love can go in spite of the potential for death of the relationship — and death of the one she loves.
Final Thoughts:
This is not one for those who are after a light romance. It has to be the most moving book I have ever read. I still feel like someone's ripped me open and torn me to shreds. I didn't put this book down once, sitting glued to my kindle for the entire afternoon. I knew it wasn't going to be a walk in the park based on the synopsis, but I had no idea how much I would come to care for these characters. For the past however many hours it was, they were all that existed. Their pain is still affecting me as I sit here and try and keep the tears back long enough to pull together something that might resemble a review.

Natalie was a really believable teenage character, both through her internal worries and her outward actions. I found her persistence towards Todd very impressive, although she wasn't infallible. She did frustrate me with some of her behaviour, but that seemed to be par for the course. Her personality was made up of a lot of little quirks that played well against those around her. Sometime Natalie was a little too in depth with what she revealed, but it all added to the realism. The high school scenes fitted in around the main plot, not taking up too much of the page time. I did find the chemistry teacher bringing her and only her coffee to each class a little bit weird. That's how rumours start.
Being a virgin, the prospect of sex for the first time plays a lot in Natalie's decision making. Especially since Todd is always talking about it. Despite his illness, he's always adding in little innuendos to their conversations. I like that Natalie thinks that in any other situation she'd find it out of place, but not with him. He's sick, and she's always trying to be there for him, even when he doesn't want her to see him. Their relationship was just so heart-warming, with the book spanning over a year as the two of them got to know each other, go to his chemo treatments together and open up more and more. I liked Todd especially for his cavalier attitude, trying to keep things positive, lighting up around Natalie whenever he saw her or heard her voice.
Dealing with first loves, breakups, sex, pregnancies, drugs and cancer, this book never failed at notching up the drama meter. There was just something about it that made me fall in love with it. The inclusion of actual parental-acting parents helped things along, but the intensity of the romance hooked me. I have to keep reminding myself that it was just a book, because otherwise I don't think I'll be able to get to sleep. A certain person's actions were just heartbreaking, even if they did fit perfectly with their character. I don't know if I could handle another book like this, at least not for a while. It's one that I definitely won't forget.
Recommended to:
Those who can deal with the deeply emotional realism of a cancer patient's struggles, and the joy of two people finding love at the right time.