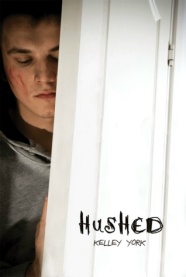 Title: Hushed
Author: Kelley York
Published: December, 2011 by Entangled Publishing
Pages: 229
Rating:






Purchase: The Book Depository
He's saved her. He's loved her. He's killed for her.

Eighteen-year-old Archer couldn't protect his best friend, Vivian, from what happened when they were kids, so he's never stopped trying to protect her from everything else. It doesn't matter that Vivian only uses him when hopping from one toxic relationship to another—Archer is always there, waiting to be noticed.

Then along comes Evan, the only person who's ever cared about Archer without a single string attached. The harder he falls for Evan, the more Archer sees Vivian for the manipulative hot-mess she really is.

But Viv has her hooks in deep, and when she finds out about the murders Archer's committed and his relationship with Evan, she threatens to turn him in if she doesn't get what she wants… And what she wants is Evan's death, and for Archer to forfeit his last chance at redemption.
Final Thoughts:
I love broken boys—they tear you up inside, but you can't help but want to see them happy. Archer, faced with a horrible upbringing, is quiet, withdrawn, basically living only to please his childhood friend, turned obsession–Vivian. Beyond frustrating, she's the kind of person you don't need in your life anymore, but can't seem to get rid of—a heavily one sided relationship. Setting it apart from the other contemporary romances, Hushed takes on a surprisingly gripping serial killer plot, where Archer—the protagonist—is the one knocking people off. While it could be compared to Dexter, I think Archer comes across more likeable, with a desire to protect the ones he cares for, rather than getting off on killing people.

It's almost immediately apparent how lonely Archer is—desperately hoping Vivian will wake up, ditch the string of violent douchebags, and see what's really in front of her. Set at university, we get glimpses of his college life—teachers that don't get him, friends that find him weird, ones he can't really be himself around…and Vivian. She's practically his every waking thought, which kind of kills the mood, because as the reader, you can see how manipulative she is, using Archer whenever she needs a pick-me-up. But luckily, that frustration quickly evaporates with the introduction of a new student on campus—Evan.
Being such a short book, it cuts to the chase, but still manages to give a steady progression to their friendship. Avoiding instaluv, it was exciting to watch Archer's feelings change over the course of a few months. I'm not sure whether he's bi, or just doesn't care, but I loved how Archer never once questioned Evan's gender when he felt himself growing more attached—interested in something more than friendship. It was refreshing to see a YA novel handle a relationship between two guys without all of the usual angst. I think that played more into Archer's dejected psyche, that he wanted someone he didn't have to act for, someone who only wanted him—and that just happened to be Evan.
There's an evident attraction there on Archer's part from the beginning, even if it wasn't sexual. I found the inner war his brain waged very addictive. Knowing he shouldn't open up to someone—but also loving that Evan wants to know him—sets him on a new path, much to Vivian's disapproval. Even though we don't see that deep into Evan's own history, we do get a sense that he's also a little closed off. Nowhere near the extent that Archer was, that gave Evan the potential to help Archer out of his shell, or to hide in it with him and just be there for him when it counted. It's very light on the romance for the majority of the book, their relationship building up from the smallest gestures of affection, but the feelings are there.
Dealing with loss, with betrayals, with downright hatred, the second half shifts everything into overdrive. Vivian's life is twisted beyond words, but she just comes off unredeemable with her repeatedly selfish, and occasionally crazy, actions. The murders Archer committed for her bring everything together, making Hushed downright unputdownable. I became incredibly attached to this book, these characters, fearing for them, hoping for the best, expecting the worst. While it did leave things slightly bittersweet, the ending was plausible, making sense of the crazy mess that was Archer's life. It's definitely a book I loved, and would pick up again. Can't wait for more from Kelley York.
Recommended to:
Those after an addictively sweet, but torturous thriller/romance.