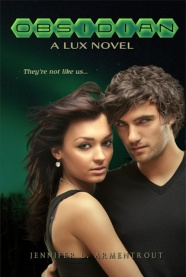 Title: Obsidian (Lux #1)
Author: Jennifer L. Armentrout
Published: by December, 2011 by Entangled Publishing
Pages: 268
Rating:






Purchase: The Book Depository
Starting over sucks.

When we moved to West Virginia right before my senior year, I'd pretty much resigned myself to thick accents, dodgy internet access, and a whole lot of boring…. until I spotted my hot neighbor, with his looming height and eerie green eyes. Things were looking up.

And then he opened his mouth.

Daemon is infuriating. Arrogant. Stab-worthy. We do not get along. At all. But when a stranger attacks me and Daemon literally freezes time with a wave of his hand, well, something…unexpected happens.

The hot alien living next door marks me.

You heard me. Alien. Turns out Daemon and his sister have a galaxy of enemies wanting to steal their abilities, and Daemon's touch has me lit up like the Vegas Strip. The only way I'm getting out of this alive is by sticking close to Daemon until my alien mojo fades.

If I don't kill him first, that is.
Final Thoughts:
Full of sexual Tension—and yes, that is with a capital T—Obsidian drew me in, right from the start. Any scene with Daemon was almost certain to plaster a grin to my cheeks. Total douche—but I loved it. As for Katy, she was pretty much your standard YA main character—dead parent, insecure over her appearance, and a carrying a bit of an attitude. She also repeatedly got herself into some dangerous situations against the better judgement of others. Still, like I said, the sexy alien premise hooked me, and I did end up enjoying the book—especially since Katy had a heap of obsessive book blogger tendencies. I cracked up over her freak out at missing a Waiting on Wednesday.

While this book did feel complete in itself, I could the see the potential being prepared for a multitude of future plotlines. If you're old enough, or managed to catch up with the dvds, you might remember the teen drama tv series, Roswell. It focussed on a girl and an alien boy in a small town, but with a lot less fighting between the couple. I loved it—magic powers, government conspiracies, evil alien exes, and ANGST—so I'm glad there are finally aliens popping up in the YA book arena. Oh, and if I wasn't obvious enough with that plug—I think you should go and pick up season one of Roswell now!
But as for Obsidian, you should read this one too. Katy does have her YA-protag familiarity, but the tension was just too much fun. Constantly being pushed to the brink, the fact that Daemon drop dead lickable and repeatedly shirtless didn't help her resolve. It was interesting to watch unfold, as Daemon really brings the hatred, and—at least from Katy's perspective—for no good reason. A personal gripe of mine stems from the length of time it took to get to the big reveal. We know Daemon's an alien—the blurb actually gives away more than I'd like—but Katy takes forever to get there. It makes sense, having all of the build-up, so that Katy gets to know him as a person first, rather than the alien-boy next door, but for me, it just took longer than I would have liked.
The friendship between Katy and Daemon's twin, Dee, seemed to taper out the deeper we got into the book. I didn't have a problem with that, as I was becoming more and more interested in the Katy/Daemon scenes, but I would like to see more of the two girls in the second book. Dee, who's really bubbly, and always trying to be a good friend, came across as a little distant. That probably doesn't make a lot of sense, but it appeared purposeful—the aliens need to keep to themselves to survive. Still, I would like to see Dee get some romance for herself—her character needs some happiness.
There's a school dance in this book, too. I'm not sure why, but they happen to pop up a lot in YA. There's nothing really wrong with them, but it just feels like they're thrown in as a way of showing the other characters how beautiful the main character really is once they get dressed up. I prefer the characters coming to these realizations in the everyday situations, like swimming at the lake, or just hanging out, getting to know each other. The book saved itself though, by not using the dance as the book's crescendo. It's a little too cliché when everything goes to hell at the dance.
A lot of action managed to go down, including the alien superpower, the hand-to-hand, as well as the foot-to-balls variety. Yet it still kept up with the high school love drama, full of the 'you're so infuriating—but I desperately want to wrap my arms around you, throw you on the couch and not come up for air' sexual tension. Daemon's exasperatingly sexy personality made this book. Like Katy, you won't know what to do with him. He could probably do with a good helping of that third variety of action—not that he wouldn't hide the pain and keep on smirking.
Recommended to:
Those after a sexy, but tense, action romance. Oh, and aliens!