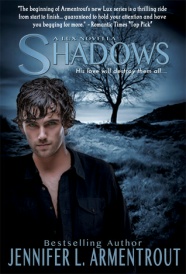 Title: Shadows (Lux #0.5)
Author: Jennifer L. Armentrout
Published: February, 2012 by Entangled Publishing
Pages: 179
Rating:






Purchase: Amazon
The last thing Dawson Black expected was Bethany Williams. As a Luxen, an alien life form on Earth, human girls are…well, fun. But since the Luxen have to keep their true identities a secret, falling for one would be insane. Dangerous. Tempting. Undeniable.

Bethany can't deny the immediate connection between her and Dawson. And even though boys aren't a complication she wants, she can't stay away from him. Still, whenever they lock eyes, she's drawn in. Captivated. Lured. Loved.

Dawson is keeping a secret that will change her existence…and put her life in jeopardy. But even he can't stop risking everything for one human girl. Or from a fate that is as unavoidable as love itself.
Final Thoughts:
I love that this novella exists. But if you haven't read Obsidian, go read that now before you get stuck into this or you'll probably be pretty confused. Everything that we were introduced to gradually in the first book was thrown straight at us in this. Focussing on Daemon's twin, Dawson, we get to see an equally hot guy, minus the snark. I love both brothers, but Dawson was so much nicer, and I guess, more mature, giving off a vibe that made it really hard to believe he was actually sixteen. If you ignore the ages though, and enjoy it for what it is, you'll find this to be one very addictive, albeit short, romance.

Splitting POV's between Dawson, Bethany, and the occasional Daemon chapter, we got to see a range of insights into this world. Bethany has her own family problems, but they weren't really explored beyond a little setup at the beginning. It's probably due to the short nature of the format. The real focus of this novella is the building romance, which I guess, is what everyone's interested in anyway—and of course, what happens to Dawson. The book does manage to pack in a fair few high school scenes, but unfortunately there weren't any of Daemon's famous pen-pokes. Ahh, I guess he must have been saving them.
With Dawson's almost polar opposite nature to Daemon, the romance is almost void of any internal angst. There's the obligatory initial flirting, but things quickly got underway, with the two of them having late night phone sessions, hiking trips, and dates at the diner. I really enjoyed this type of relationship, and the kissing…O M G. But yes, I loved that all of the drama came from those meddling around them. The other aliens, who aren't so human friendly, were brusque to the point of threatening, but in a way, they seemed less douche in comparison to their Obsidian counterparts. It makes sense considering the result of this book.
The way things played out Alien-wise, was similar to that in Obsidian, but also managed to be somewhat different. I loved the reaction of Bethany, but I loved Daemon's more. The family relationships were important in building towards what was no doubt coming. I was waiting for it, but didn't want it to happen. The final chapter of this novella was such a great lead into Obsidian, but unlike what I was expecting. I now have more questions than when I started. I guess that's the mark of a good book. Bring on Onyx!!
Recommended to:
Those who've read Obsidian, or those who just love hot aliens.