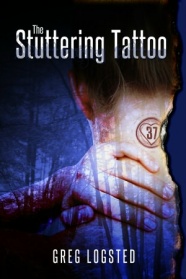 Title: The Stuttering Tattoo
Author: Greg Logsted
Published: December, 2011 by TKA Distribution
Thanks: Greg Logsted via NetGalley
Pages: 202
Rating:






Purchase: Amazon
Steven Bishop is extraordinarily ordinary. He goes to school. He rides his motorcycle. He stutters. His best friend is a former Colombian cartel hit man turned cook/construction worker. You know, ordinary. All that changes the day Becky Moore walks into his classroom. Becky is dazzling, enigmatic.

One day Steven gives Becky a ride home on his motorcycle. There, they discover a severed arm, one of the fingers of which still has an unusual ring attached: a circle, in the middle of which is a heart, at the center of which is a bold number 37. While comforting Becky, Steven discovers a tattoo at the base of her neck: it is the same symbol. And so begins a thrilling descent into a world of crime and murder, a ride wilder than any Steven has taken before.
Final Thoughts:
This managed to go off in a direction I wasn't expecting, but I found it surprisingly enjoyable. The romantic pairing wasn't as prominent as I'd originally thought it would be, but the whole mob-family aspect took things on a fun ride. Bodies dropping, split personalities, motorbike chases—there was never really a lull. The stuttering, while apparent in Steven's dialogue, blended into the narrative and was used effectively throughout. He was picked on very minimally, which was nice to see, with the majority of his speech issues overlooked by those around him. I'm enjoying seeing more of these conspiracy-filled books popping up in the upper YA market. I've read plenty that were middle grade focussed, so I was thankful to find this one.

Steven's a character with a lot on his plate. Some of his problems are self-imposed, but what seventeen year old isn't going to try and help out the person they're crushing on, even if it means going against their parents advice, or sometimes, because of that? The little Sudoku book that Steven carries with him everywhere was a cool addition to his character. He didn't really fit into any specific category, instead just falling into the activities that he enjoys and ignoring the masses. Initially, he comes off outwardly rebellious, at least on the home front. Steven is one of those protagonists that do everything without seeking adult help. But at least the reasoning behind his secretive behaviour makes sense to the reader.
The introduction of the new girl, Becky, basically set up the series of events that lead Steven into chaos. Her character didn't receive much development, though. She was somewhat friendly, talkative, and liked music. And while she does move the plot along, she's not actually in it that much. Her family is a little disturbing, filling Steven with intrigue. But most of the fun that eventuates from it is during Steven and his older friend, Carlos, on their investigative adventures. Their friendship seemed to gather more focus than the time spent with Becky. I didn't exactly mind, the plot kept moving towards the final burst of action at the end either way.
Even though Steven's dad wasn't in on the action, I liked that he was still a part of the book. More often than not, parents are killed off prior to the start, or removed with some other device, so that the teen character can be on their own. Here, the parent was actually involved, and trying to incorporate his son into his own life. It didn't exactly have some giant meaning behind it relative to the plot, but it helped make things a little more well-rounded. With Steven's police officer father remaining out of the loop, while he was out chasing after criminals, it made it that much more amusing.
I liked the use of the smaller side characters, such as the ex-detective and the high school coach—like the parental aspects, they added more to the story. But personally, I was disappointed with how the mother sub-plot played out. It just felt there could have been more to that. There were multiple, but brief, action scenes, that managed to raise the tension, adding believability to the stakes that Steven had inserted himself into. I didn't particularly like the use of a flash-forward ending, but as a likely standalone, it adds some closure.
Recommended to:
Those interested in some teen detective work. It's a fun, mob-family story.