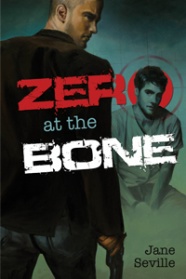 Title: Zero At The Bone
Author: Jane Seville
Published: April, 2009 by Dreamspinner Press
Pages: 308
Rating:






Purchase: The Book Depository
After witnessing a mob hit, surgeon Jack Francisco is put into protective custody to keep him safe until he can testify. A hitman known only as D is blackmailed into killing Jack, but when he tracks him down, his weary conscience won't allow him to murder an innocent man. Finding in each other an unlikely ally, Jack and D are soon on the run from shadowy enemies.

Forced to work together to survive, the two men forge a bond that ripens into unexpected passion. Jack sees the wounded soul beneath D's cold, detached exterior, and D finds in Jack the person who can help him reclaim the man he once was. As the day of Jack's testimony approaches, he and D find themselves not only fighting for their lives… but also fighting for their future. A future together.
Final Thoughts:
A hitman falling for his target—it doesn't sound too original, but it ended up being a completely addictive read. Alternating POVs, we get to see inside the closed off mind of a killer as he tries to come to grips with his warring emotions, as well as the mind of the target—a surgeon-turned-highly sought after witness. It's a very long book, or at least it felt like it. It wasn't necessarily a bad thing, spreading things out, giving them time to build, while still packing in oodles of plot. Once this thriller infused the romance, it became very hard to put down—I stayed up well past 4am on this one.

D went through such a transformation over the course of the book. Personally, I loved him more than Jack, but it took some getting used to his slang and contraction imbued speech patterns. By the end, though, they were just him, making him easy to pick out. He had a harshness to him, built over years of emotional seclusion—something he needed in his line of work. The initial few weeks of him and Jack on the run and in hiding were some of my favourites. I loved watching bits of D's outer protection being chipped away by Jack's sometimes pushy, but well-meaning nature.
I think I recall Jack being mentioned as having balls of steel. Living with an assassin would put anyone at the end of their nerves, especially when they're supposed to kill you, but Jack—he held himself together really well. There were lots of small things that made Jack endearing. Picking up on things that D had missed, then five seconds later, doing something to prove how much of a noob he still was. While the first third of the book was light on the romance, once it got going, it got going. These two have so much sex, it's a wonder they have any need for clothes.
Even though their sex life wasn't lacking, the relationship didn't spring into full throttle all at once. D, being the vault that he was, held more reluctance over being gay, or as he dubbed himself 'the queer hitman'. I liked the slow progression, opening up, and giving away little bits of himself over the ensuing months. I also like that it focussed less on D being homophobic, and more on the fact that D just didn't know how to be with someone else. With so much guilt over his past, it was a trial in allowing himself to have happiness.
I was surprised by how much Zero at the Bone packed in. The plot of the book, or what I'd thought to the main focus, resolved itself somewhere just after the middle of the book, leaving me wondering where things could be headed. What ended up happening expanded the characters tenfold—they felt more, struggled through tense action and despair, and put their relationship to the test. I was disappointed with the revelation of X's identity, thinking it would have been a cool way to explain what had happened to a previously mentioned, but unseen character—but it wasn't to be. I'm also not a big fan time slips, but it did get the book to a good point, giving the reader a clearer understanding of where they were, and what was to come.
Recommended to:
Those after a growing romance full of action, backstabbing and sex.