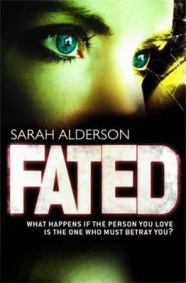 Title: Fated (Fated #1)
Author: Sarah Alderson
Published: February, 2012 by Simon & Schuster
Thanks: Simon & Schuster, AU
Pages: 310
Rating:






Purchase: The Book Depository
What happens when you discover you aren't who you thought you were? And that the person you love is the person who will betray you? If your fate is already determined, can you fight it?

When Evie Tremain discovers that she's the last in a long line of Demon slayers and that she's being hunted by an elite band of assassins –Shapeshifters, Vampires and Mixen demons amongst them – she knows she can't run. They'll find her wherever she goes. Instead she must learn to stand and fight.

But when the half-human, half-Shadow Warrior Lucas Gray – is sent to spy on Evie and then ordered to kill her before she can fulfil a dangerous prophecy, their fates become inextricably linked. The war that has raged for one thousand years between humans and demons is about to reach a devastating and inevitable conclusion. Either one or both of them will die before this war ends.

If your life becomes bound to another's, what will it take to sever it?
Final Thoughts:
I've heard that Sarah's other book Hunting Lila was amazing, so I was excited to start on her latest release. Unfortunately, it just didn't wow me. I like demons, and I like demon hunters, so it should have been a perfect fit, but there was something about it, something that it lacked. I didn't connect with Evie as the book progressed, and at one point I thought, "If they killed her, would I care?" The switching POVs did help it somewhat—Lucas's life surrounding the Brotherhood brought more to the book—but towards the end, I thought it hindered it. When you know what the other character's real intentions are, it takes away from the tension.

The drama based on Evie's grudge she held over her ex-boyfriend, Tom, earned this one some points. I liked that Evie's life wasn't a blank slate up until the beginning of the book. She's been through plenty of loss, bridling her with an equal supply of anger, and just a bit of survivor's guilt. Somehow though, even with all of this, her emotions didn't grab me. There were times when I didn't know whether she was strong, weak, or just stubborn. Still, she did think about some things or question them, rather than just running right into everything blind, which did help with her likeability.
But for me, Lucas was easily the better character—maybe because he actually knew what was going on. When I was reading his chapters, it made the action more exciting, watching him experiencing things from the perspective of Evie's would-be killer, as well as the one who loves her. The love irked me a bit, though. It just came out of nowhere, and basically swept Lucas away. I would have preferred more build up over the course of the series, rather than being ready to thrown your life within weeks of meeting.
The introduction of the Unhumans and their Brotherhood felt rushed at the beginning. There were lots of characters, and throwing them at us all at once didn't help me build much of a memory. When books have big groups, I find it easier when they break them down into smaller ones and spreading out the intros. That said, the actual types of demons introduced here were really cool. I liked the creativity put into them, making them more than just menacing people in leather, shooting orbs of fire from their hands.
The book did bring in some twists towards the end, but they weren't the overly shocking, completely out of left field type. I still liked them as they brought the plot to a point, ready to send it in a new direction, but if it could have been done sooner, I would have liked it more. The training exercises took up way too much page time. The ending brought about lots of questions, which will be good leading into the second book—but for me, I'm actually more interested in checking out Hunting Lila.
Recommended to:
Fans of the Drake Chronicles might enjoy this one.