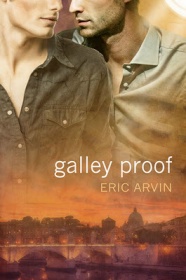 Title: Galley Proof
Author: Eric Arvin
Published: January, 2012 by Dreamspinner Press
Thanks: Dreamspinner Press via NetGalley
Pages: 195
Rating:






Purchase: The Book Depository
Fiction writer Logan Brandish is perfectly happy in his peaceful small-town routine with his best friend, his cat, and his boyfriend—until he meets the editor of his next book, the handsome Brock Kimble, and the lazy quiet of everyday living goes flying out the window. Faced with real passion for the first time, Logan becomes restless and agitated, and soon his life and his new manuscript—a work in progress he'd always thought would be completed—are in a shambles.

But as Logan is learning, you can't always get what you want… at least not right away. To take his mind off the mess, he takes a trip, but even the beautiful Italian, um, scenery can't keep his thoughts from his erstwhile editor for long. Logan just might have to admit there are some things you can't run from.
Final Thoughts:
Short, but a lot of fun. I kept finding myself running back to my kindle whenever I had a spare bit of time after work—but even so, it only took me a day or so to get through. A book about a writer struggling to write because he's caught up in his hot editor's orbit—yeah, that was definitely fun. It wasn't incredibly moving, and didn't rock me with a slew of action, but I still enjoyed it immensely. Lately I've been reeled in with a few exciting blurbs that were accompanied by less than stellar insides, so I was glad that this one held my interest the way it did.

Logan was an interesting main character in that I couldn't really get a grip on him one way or the other. His personality spanned from the quiet, almost awkward guy, to the not so much, to the take things as they come, throw caution to the wind kind. It was fun, anyway. The journey of his life starts out with things heavily routined to the point of boredom. Enter Brock Kimble, sexy editor, and Logan got the urge to change things. The speed moved quickly, but not without taking the time to set things up, to build something between them.
Brock seems superficial at first, but opens up the more the two of them spend time together. His revelations helped add a human aspect to his otherwise unflawed character—and the occasional sex scene didn't hurt either. The book did worry me for a while with its fast pace, though. It managed to remedy it with a twist in direction that just came out of nowhere. I liked it, but it felt like the book had changed into something different.
The side characters aren't especially deep, but do give the book its quirks. Logan's roommate, and her quest to seduce the door-to-door religious peddlers, while pitting the different factions against each other, cracked me up. It was only a background plot, but I became really interested in how her little web would unravel. Plus, the other editor at the publishing house—her abrasive personality was gold. I can still picture her perched up over the windowsill calming her frazzled nerves as she puffed her cigarettes.
With everything that Galley Proof threw at us, I was wondering how it had any chance of a resolution. I found the gist of the ending enjoyable, but would have liked just a bit more…with a bit less. That probably makes no sense, but I'm trying to keep from spoiling too much.
Recommended to:
Those who want something light, fun, with the occasional zany character and sprinkled with a helping of romance.