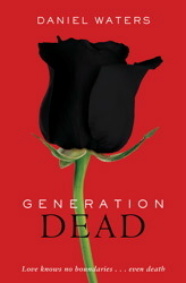 Title: Generation Dead (Generation Dead #1)
Author: Daniel Waters
Published: May, 2008 by Simon & Schuster
Pages: 393
Rating:






Purchase: The Book Depository
Phoebe Kendall is just your typical Goth girl with a crush. He's strong and silent…and dead.

All over the country, a strange phenomenon is occurring. Some teenagers who die aren't staying dead. But when they come back to life, they are no longer the same. Feared and misunderstood, they are doing their best to blend into a society that doesn't want them.

The administration at Oakvale High attempts to be more welcoming of the "differently biotic." But the students don't want to take classes or eat in the cafeteria next to someone who isn't breathing. And there are no laws that exist to protect the "living impaired" from the people who want them to disappear—for good.

When Phoebe falls for Tommy Williams, the leader of the dead kids, no one can believe it; not her best friend, Margi, and especially not her neighbor, Adam, the star of the football team. Adam has feelings for Phoebe that run much deeper than just friendship; he would do anything for her. But what if protecting Tommy is the one thing that would make her happy?
Final Thoughts:
We need more zombies in YA, or maybe I just need to go and find them. It's a niche that I've been really getting into lately. While I didn't love this book, I wouldn't say it was bad, just a little slow for my tastes. Adding in three different POVs wasn't preferable, but it didn't harm the flow too much. The only real problem I had with it was the inclusion of Pete's perspective—the star of the football team who runs the "Pain Crew". I can see why he's there, though. Without him, the reader has no real sense of the growing conflict beyond the general zombie-hating state of the world.

Even though there are multiple perspectives, we don't get one from Tommy, the main zombie that the book focuses on. I would like to find out what it's like inside his head, but the mystery does help to keep you guessing. Still, there wasn't much about Tommy that made him an overly memorable character. I liked him, but I didn't connect with him enough. The romance between him and the main female character, Phoebe, felt stilted. There was flirting, in a way, but not much progression. There are scenes where little bits could be added to create that spark, but it seemed like the theme of prejudice was the only part being brought to the forefront.
With that aspect, it did manage to form a lot of notions for the reader to think about. The characters in this book are faced with so many challenges just for existing. These teenagers, zombies, living impaired, differently biotic, people, are treated with fear and contempt at almost every turn. I really didn't enjoy reading this, but I did like the way it was done. As I mentioned, it gets in your head. The middle of the book too much time on this, with the zombies and a few of the non-zombies going to specially designed classes to discuss the issues, and learn more about each other.
There is some regular high school drama mixed in with all of this. Adam, the boy next door, has family problems, trying to deal with his stepfather, and a host of stepbrothers, and his unrequited feelings for his best friend. He was probably my favourite to read about. He's strong, manages to inject humour when he thinks a situation needs it, and always stands up for those he cares about. Phoebe, with her head in the clouds, could be annoying. I didn't get her interest in Tommy. She just liked him, and that was that. Her POVs didn't really express her interest in him, other than that she wanted to be around him. I suppose that's all well and good, but I've gotten used to all of the swoon-worthy descriptors that this one doesn't include.
Recommended to:
Those who enjoy us-against-them high school tension.