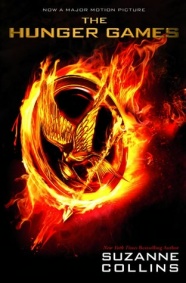 Title: The Hunger Games (The Hunger Games #1)
Author: Suzanne Collins
Published: October, 2008 by Scholastic
Pages: 454
Rating:






Purchase: The Book Depository
In the ruins of a place once known as North America lies the nation of Panem, a shining Capitol surrounded by twelve outlying districts. The Capitol is harsh and cruel and keeps the districts in line by forcing them all to send one boy and one girl between the ages of twelve and eighteen to participate in the annual Hunger Games, a fight to the death on live TV.

Sixteen-year-old Katniss Everdeen, who lives alone with her mother and younger sister, regards it as a death sentence when she steps forward to take her sister's place in the Games. But Katniss has been close to dead before—and survival, for her, is second nature. Without really meaning to, she becomes a contender. But if she is to win, she will have to start making choices that will weigh survival against humanity and life against love.
Final Thoughts:
I tried listening to the audiobook at the start of 2011, but I only made it six chapters in before I gave up. The narrator was so off-putting, that I just couldn't get into the story. Fast forward a year later, with only a few weeks to go before the movie's release date, I picked up the paperback and decided to start back at the beginning. I fell in love with this book, as simple as that. Reading, as opposed to listening, made so much of a difference to my level of enjoyment. As for the story, I never had any of those moments where you're left shaking your head at the pages—it was just so brilliantly well thought out. And Katniss, she was smart, a constant thinker…it's refreshing.

I know I'm probably one of the last people on Earth to read this book. I bought it at the same time that I started the audiobook, and then let it gather dust after that failed to wow me. I'm so glad the upcoming movie pushed me to find time for this. Almost everyone raves about it, so that had attributed to my extended avoidance. I generally find hype only leads to a letdown, but in this case, it was well deserved. I plan on starting the second book after I watch the movie, just because I'm weird like that. However, I doubt my willpower will hold out until after a potential Catching Fire movie has been released before I start on the final book.
Despite the setup taking up a large chunk of the book, I still found it such an easy book to get lost in. The characters, both the main ones, and the ancillary, drew you into the world, gave trepidation, determination, and a wave of endurance. Even though it's building the world, showing the characters and their lives, we're thrown right into the turmoil. The interwoven memories allow for that character building, while keeping the tension for the main part. The actual games were more of an internal struggle, rather than a grand display of violence. Sure, it's not a walk in the park, people die—but I liked living it, the tree-strapped naps, the daily desperation, from within Katniss' head. How that translates to the screen will be interesting to see.
I could probably go on, but like I said, I have to be one of the last people to read The Hunger Games. And if you haven't…oh who am I kidding, I am the last.
Recommended to:
Those who want a smart leading female, and a fight for survive intertwined with unrequited romance.