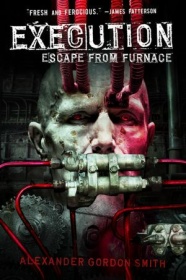 Title: Execution (Escape From Furnace #5)
Author: Alexander Gordon Smith
Published: March, 2011 by Faber and Faber
Pages: 336
Rating:






Purchase: The Book Depository
Alex Sawyer has escaped his underground nightmare to discover the whole world has become a prison, and Alfred Furnace is its master. Monsters rule the streets, leaving nothing but murder in their wake. Those who do not die become slaves to Furnace's reign of cruelty. Alex is a monster too. He is the only one who can stop Furnace but in doing so he could destroy everything. Is he the executed or the executioner? Who will die? All Alex knows is that one way or another, it all ends now.
Final Thoughts:
It took me two weeks to get through—that should tell you something. Being the final book in the series, I pushed through to the end, just because I needed them to find peach—I mean peace—some sort of resolution. The series as whole has been hit and miss for me. The first book took me a while to get into, but then the second and third had me gripping the pages tightly, unable to stop. Book four—the actual escape, or rather fleeing—was the turning point, but unfortunately lost a bit of steam, the same happened with this one. Alex became very much a loner, taking away the fun, brotherhood aspects I'd come to love in the previous instalments. There were still bits of humour, bits of that camaraderie laced throughout, but it was few and far between, instead focussing on the final battle that Alex needed to face with Furnace, the one the whole series had been leading to.

The introduction of a new enemy this late in the game felt weird, almost unnecessary. It kept the book going, with added tension, but without it, things probably could have been resolved at the end of book four. There were definitely moments through this book that made it worth it though—bits of closure in areas where I hadn't given a second thought, pieces that made the characters richer, even the characters that we wouldn't have thought needed it. Zee, Lucy and Simon didn't really get a lot of time spent on them—except when they were needed as Alex's personal encouragement team. Thinking back over the course of their adventures, it's amazing how much they've gotten through together—the strength of that bond they formed when faced with a world that wanted to destroy them.
I really liked the way the end managed to pull everything together, linking in bits from the earlier books, really showing how developed this series was. It wasn't exactly a picture perfect ending, but with a series like this, it wasn't exactly to be expected. The supernatural or advanced science, or whatever is actually going on, was never really explained with and definition—but I guess with it done that way, you can make up your own conclusions as to where the power came from. Once you've finished, I recommend seeking out the epilogue that Alexander has included on the series' website. It's around fifteen or so pages, and just brings in a little something more that the book didn't have. The book's ending is still fitting, especially the final line, but with the chance for more—who could resist.
Recommended to:
Those who enjoy a well plotted conspiracy full of action, friends and death.