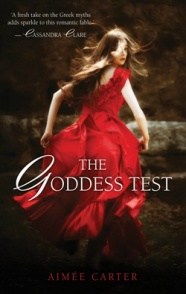 Title: The Goddess Test (Goddess Test #1)
Author: Aimee Carter
Published: April, 2011 by Harlequin Teen
Thanks: Harlequin Teen, AU
Pages: 293
Rating:






Purchase: The Book Depository
It's always been just Kate and her mom—and her mother is dying. Her last wish? To move back to her childhood home. So Kate's going to start at a new school with no friends, no other family and the fear her mother won't live past the fall.Then she meets Henry. Dark. Tortured. And mesmerizing. He claims to be Hades, god of the Underworld—and if she accepts his bargain, he'll keep her mother alive while Kate tries to pass seven tests.Kate is sure he's crazy—until she sees him bring a girl back from the dead. Now saving her mother seems crazily possible. If she succeeds, she'll become Henry's future bride, and a goddess.
Final Thoughts:
This one took a while to get through, but was enjoyable throughout the whole book. I think I'd been expecting something a little different going into it, but the end result was equally fun and intriguing. It does have a high school aspect that tries to bring in the angst, but thankfully it was shown the door quite quickly. It wasn't grating though—I actually found Kate's blasé attitude towards the social hierarchy refreshing. It helped give more weight to her feelings towards her tenuous home life, waiting for her mother to die.

One of the hints towards a twist drew my attention, thereby annoying me when it came true, but for the better part, I kept getting shocked. I loved The Goddess Test's ability turn my mind upside down. It made me care about characters, then hate them, then like them again. It was really hard to pin down a single conclusion about someone as things were always changing. Kate, even though it was set within her head, showed a metamorphosis of emotion during her stay at the manor. As a person, she didn't come across some big epiphany, but rather, she grew into more well-rounded version of herself.
I liked the distinction in the speech patterns. Henry was easily identifiable even without a moniker attached to his dialogue. He had an almost-perpetual sullen vibe about him that he alternated only to give orders or make judgement. The rare smiles he divulged to Kate were therefore much more effective in creating a romantic air between them. The uncertainty over his past, and whether he could ever move on, created a barrier, holding back the possibility of slipping into insta-luv. I would have been frustrated had that occurred anyway as Kate was obviously not in the right head space in the beginning for any type of romance.
Setting the majority of the book within the gated walls of Eden Manor didn't seem to stop the book from remaining interesting. It wasn't particularly about the settings, it was the people. The characters created their own problems, Kate was stuck in the middle of them, and her ability to deal with it moved her along her path. The actual tests by which the book is named didn't get much of a mention, which is what confused me initially when I started this one. Rather than Kate jumping through hoops, it became more about forging relationships and saying goodbye to old ones.
I loved the progression in the second half just a bit more than the first—in fact, I became unable to put it down. I need to mention it again—the twists floored me. Usually I pick up on them, but these just slipped right by me. It was such a smart way to end things, but I am glad there is more to come. I can't wait to see what becomes of this little house of death.
Recommended to:
Those who enjoy a slow-building romance, characters with responsibility and family issues.