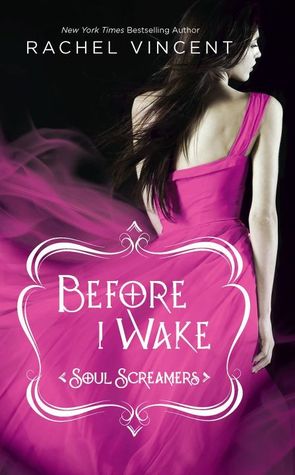 Title: Before I Wake (Soul Screamers #6)
Author: Rachel Vincent
Published: June, 2012 by Harlequin Teen
Thanks: Harlequin Teen, AU
Pages: 339
Rating:






Purchase: The Book Depository
I died on a Thursday-killed by a monster intent on stealing my soul. The good news? He didn't get it. The bad news? Turns out not even death will get you out of high school…

Covering up her own murder was one thing, but faking life is much harder than Kaylee Cavanaugh expected. After weeks spent "recovering," she's back in school, fighting to stay visible to the human world, struggling to fit in with her friends and planning time alone with her new reaper boyfriend. But to earn her keep in the human world, Kaylee must reclaim stolen souls, and when her first assignment brings her face-to-face with an old foe, she knows the game has changed. Her immortal status won't keep her safe. And this time Kaylee isn't just gambling with her own life….
Final Thoughts:
After the book that basically remade the series, I was wondering what to expect. While not packing as heavy a punch, Before I Wake still kept me enthralled with the day-to-day demon-infused lives of the characters I've come to enjoy. While almost all them are supernaturally charged in one way or another, it's a wonder that when I think of these guys, I think of their personal struggles, the drama, and not the Netherworld crisis currently befalling them. Becoming less self-contained, the plots have grown across the six books, playing more on the human qualities, yet managing to do so in a way that doesn't let the book fall into the dreaded 'paranormal with no paranormal' territory.

One of my favourites for a while now, Tod, had lost a bit of his spark—at least in my opinion. I still loved reading his scenes—which there were many of. But in terms of his snappy interjections, and unabashedly inflated ego—some of the reasons he was so much fun to be around—there were a lot less. It's pretty obvious where his change in character came from, and understandable, it's just a bit of an adjustment. Making up for that, we got to see a lot more of him, opening up a side of him that had been closed off for the majority of the series.
With Sabine and Kaylee finally making steps towards something resembling a truce, their bitchy antics—some of that drama I was mentioning—took a hit. I did enjoy the angst that their boy sharing created, but having them on the same side for once was fun too. Plus, I loved Sabine's substitute punching bag in the form of Kaylee's irritable cousin, Sophie. Moulded over the past few books, Sabine has gradually pushed her way to the front of my favourites. She has backbone, and no filter—a perfectly disastrous combination. With her and Nash, it's hard to tell what's going on—a point towards sticking in one point of view—but I'm hoping for some kind of resolution in the final book.
Kaylee's new undead state made things interesting this time around, allowing her to pop in and out of situations, getting to school in an instant, and spying on people with her invisibility ability. Comparing the two Kaylee's—the one just finding out she was a bean sidhe, and the one now taking up position in the reclamation department—it's evident she has grown quite a bit. Her decisions show more maturity, which is always a good thing to see. Experiencing many different events and the emotions that go with them, Before I Wake has pushed Kaylee to a point she hadn't reached until now. With Avari, a demon-like SOB that has been determined to have Kaylee's soul for months now—apparently even undead—getting stronger in ways that had previously been impossible, it's clear that a showdown is coming.
Recommended to:
Fans of the series (obviously), and if you haven't started, you might want to get onto that now. Like If I Die, this book's ending really throttled things, shocking me with its abruptness.