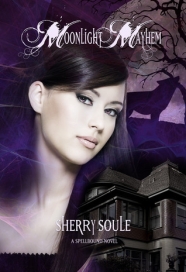 Title: Moonlight Mayhem (Spellbound #2)
Author: Sherry Soule
Published: July, 2012 by Moonlight Publishing
Thanks: Sherry Soule
Pages: 325
Rating:






Purchase: Amazon
Otherworldly Creatures. Dazzling Magic. Fiery Romance.

Shiloh Ravenwolf thought she was getting used to the strange events in Whispering Pines, until the full moon brings another surge of supernatural threats to her coastal town. Ferocious wolves, deadly necromancers, and shambling zombies have descended upon the neighborhood, so Shiloh needs to gain control of her magical abilities—fast!

It sucks that she has a crippling fear of the dark, which for a demon hunter can be an epic problem. But she spends so much time wallowing in the darkness, how can she not become a part of it?

When her classmates are attacked by a mysterious creature and her father is murdered, Shiloh vows vengeance. Forcing her phobias aside, she forms an unlikely coven of supernaturally gifted teens to help her eradicate this menace. Except that's not all Shiloh has to worry about. She's battling a different monster within herself and struggling not to become the very thing she fights: evil.

But with demon blood inside her—anything can happen…
Final Thoughts:
It took me a couple weeks reading on and off to get through this one. While I enjoyed the book, it didn't capture me in the quite same way that the first instalment did. Gone were the hidden secrets and gothic undertones that we got exploring the Ravenhurst Manor, instead, replaced by a not-a-werewolf wolf infestation story. Unfortunately, in that regard, there wasn't a lot of mystery to keep me guessing. So, if you're one for big twists, you might be a little disappointed.

Throwing us back into the heart of it, Shiloh's life gets torn apart, offering some new possibilities for her character to grow. In terms of building upon her pre-established 'must-save-the-innocents' mindset and the idea that she may no longer be so innocent herself, I liked where Soule went with that. A downfall of Shiloh's—at least in my opinion—was her propensity to describe each piece of clothing whenever she got changed. I didn't need updates each chapter on what colour boots she had on. But then, if you're into fashion, you might like that aspect.
A plus for me was the seemingly decreased use of pop culture references this time around. They're still there, but now seem to focus predominantly on Shiloh's—and most likely, Soule's—love of the demon-hunting witches of Charmed. On top of the name dropping, Shiloh had a dash of snark to her that I enjoyed. Her dry wit worked really well in the internal dialogue.
Changing the dynamic, this book spent a lot more time focussed on the high school, and Shiloh's shifting group of friends. This is probably where I gained some of my interest back. I did have a bit of an issue with speed at which people were able to believe in the supernatural, but then again, when you have a giant wolf staring you in the face, you might just be a little more open to believing.
The final quarter of the book was where everything kicked into gear and really kept me reading. It'd been a little slow building—even with the zombie interlude—so the action-fuelled showdown of the last fifty or so pages was much needed. It wasn't so much the reveals that I enjoyed—as like Shiloh, I'd figured most of it out—it was the way all of the ties came together. The characters now have a deeper layer to them, one that I was looking for in the first book. Plus, with a potential new fallen angel plotline hinted at throughout this book, I'm sure the third one will have plenty to interest me.
Recommended to:
Those who like snarky teens banding together to take on evil.