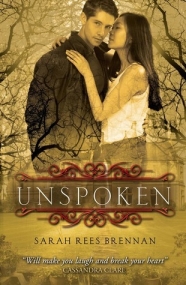 Title: Unspoken (The Lynburn Legacy #1)
Author: Sarah Rees Brennan
Published: September, 2012 by Simon & Schuster
Pages: 373
Rating:






Purchase: The Book Depository
Kami Glass is in love with someone she's never met – a boy the rest of the world is convinced is imaginary. This has made her an outsider in the sleepy English town of Sorry-in-the-Vale, but she doesn't complain. She runs the school newspaper and keeps to herself for the most part – until disturbing events begin to happen. There has been screaming in the woods and the dark, abandoned manor on the hill overlooking the town has lit up for the first time in 10 years.

The Lynburn family, who ruled the town a generation ago and who all left without warning, have returned. As Kami starts to investigate for the paper, she finds out that the town she has loved all her life is hiding a multitude of secrets- and a murderer- and the key to it all just might be the boy in her head. The boy who everyone thought was imaginary may be real…and he may be dangerous.
Final Thoughts:
As an obvious fan of The Demon's Lexicon, I couldn't wait to get my hands on anything new by Sarah Rees Brennan. I was kept sated by Team Human, a riot of vampiric indignation, but now that I've finished Unspoken, I'm probably going to have to drop the high average that I've been holding onto for the past few years. It was still a great book, but just not an, 'OMG, where have you been,' kind of book. Thankfully though, the sardonic wit is back, bringing with it a whole new group of teenagers, one lead by a particularly inquisitive (pronounced: 'nosey') girl, Kami, backed up by whichever of her friends she manages to wrangle into tagging along with her on her sometimes illegal escapades into finding out the truth.

While set in England, the majority of the story doesn't step beyond the confines of Sorry-in-the-Vale, the insidious little town in which so many secrets seem to be housed. It's the perfect set for Kami's inner Nancy Drew to come alive. Unfortunately for her, once she starts digging, she turns up more than her share of rotting corpses. And with her unwavering pursuit of justice propelling her forwards, it leads her on a path that's determined to add her to the pile. But solving a mystery wouldn't be complete without adding in friendship drama and boy troubles.
Kami's relationship issues are in her head. An imaginary friend that she hasn't been able (or wanted) to shake has left her surprisingly unharmed socially. She may not consider herself the queen of popularity, but that's exactly what she seems to be. In the beginning, she does appear to be overlooked for the other girls she sees as more attractive, but it isn't long before she's got people hanging all off of her every word. I much preferred her relationship with Angela as it showed a connection that wasn't anything other than mutual friendship. The two of them had a rapport full of their own brand of humour and affection.
As for the boys, I felt that the love triangle—if that's what it was supposed to be—quickly became one sided. Of course, that could all change come book two, but as far as things went this time around; it's hard not to have fallen towards one team. Ash and Jared are 'supposedly' cousins—though coming from such a twisted family (or maybe tame, if you compared them to The Bold and the Beautiful), I could see them being stepbrothers. Either way, it harks upon the similar roots of The Vampire Diaries, suggesting the possibilities of further familial warring.
Developing the side characters seems to be where Sarah exceeds most. Not just is the main character a force upon herself, the people around her get their own traits beyond that of 'sidekick #1' etc… I found myself especially liking Kami's parents. They made multiple appearances throughout the book, proving they were more than just your oblivious mother/father in the background. Even Kami's little brothers showed individuality, one quiet, and one hyper, they added that layer that made their lives seem more real.
Finishing the book, I was honestly a little disappointed. But it's book one in the series—I can live a less than perfect ending knowing there's going to be more. In fact, I'm intrigued to see what comes of it.
Recommended to:
Fans of Hush, Hush would probably enjoy this one.